Last time, I've introduced about how to Get Started with Merch by Amazon and how to Do keywords research and optimization, so today, let's do some Merch by Amazon research in all aspects.
Thank you all for all of your messages recently, I'm very grateful that you guys found my post helpful 😀 I hope this one will be another great article to all of you.
Preparation and Mission
If you are new to Merch by Amazon, you will need a lot of guidance and direction assistance to help you form up design ideas. But first, there is something I want to make clear.
First, we have to understand our customers. In general, there are 2 types of them:
Search on the Amazon search bar immediately for their needs;

Digging into specific categories.
And how coincident, all Merch by Amazon items are put in Clothing, Shoes & Jewelry : Novelty & More : Clothing : Novelty. Therefore, most of your focus will be on this category.
Don't even try rank climbing in "Men's T-shirt" category of Amazon. You are not alone, and Merch by Amazon is also not alone. There are many businesses else out there, like FBA, individual sellers, etc. The competitive rate is too damn high so it'd better not to touch that category. Ignore them.
Meanwhile, if you focus on the Novelties categories, it would be more effective with less effort. Our main mission is to reach higher places on that category page.
How to recognize Merch T-shirts?
In multiple items page, the preview image contains only the T-shirt, no model wearing it.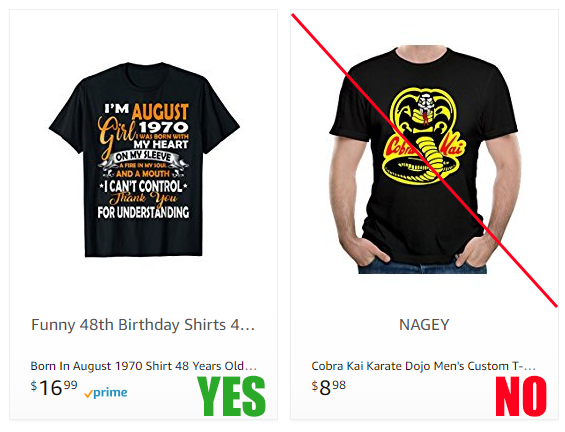 Inside the detail item page, it always has an image showing size chart.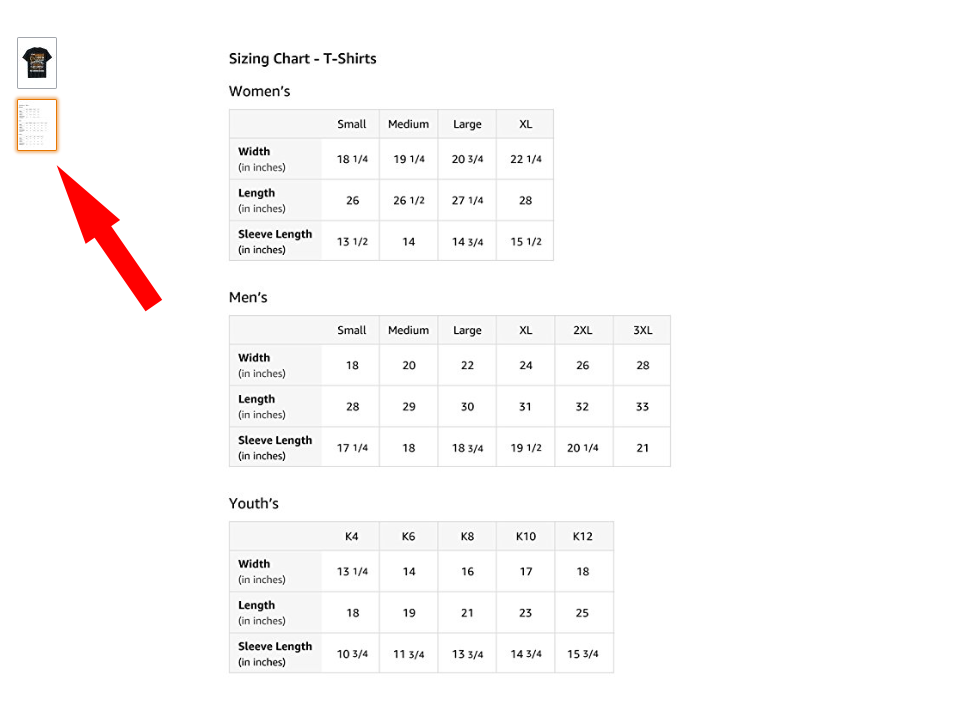 A bullet point in the description will always be 

"Lightweight, Classic fit, Double-needle sleeve and bottom hem"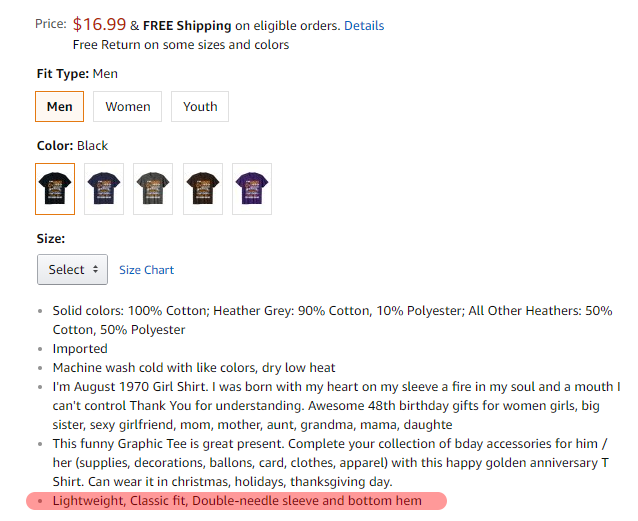 This should be helpful to you during your research. To distinguish the Merch items from other kinds' items, you can save a bunch of time and get your move in the right direction. Also, you can avoid misunderstanding with other's business which not related to Merch by Amazon. Remember, not that every T-shirt under "Men's T-shirts" are Merch items.
Let the Research begins
The most critical factor in Merch by Amazon research is an IDEA. You can use a quote, an image, a meme, real-life event/occasion, or an animal. WHATEVER you think it's good enough to rocket the sales.
The question is, where can we find them? Via the research of course.
The research starts now! Based on the differences above, you can easily search for Merch items on Amazon. The most simple way to find them is searching for the magic phrase "Lightweight, Classic fit, Double-needle sleeve and bottom hem".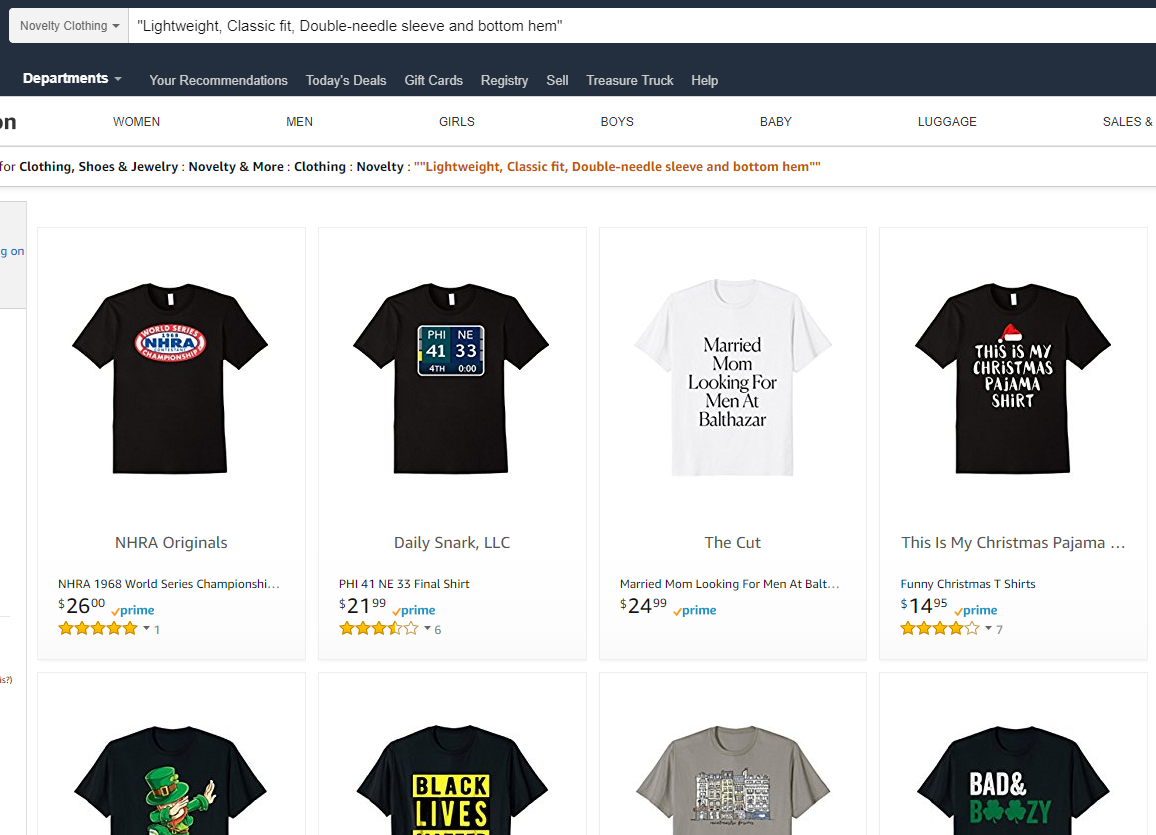 You can start scrolling now to find ideas around the market and look for the best-ranked items. However, blindly scrolling would be unwise, because you can't see the rank or anything other information about them. I suggest you should take some help from tools and extension.
Chrome extension
There is a Chrome extension which can display most of the information right on the search page: DS Amazon Quick View. You can see ranks and sellers, helping you a lot in your Merch by Amazon research.
As you can see, the rank displayed right under the items, however it lacks Price History and BSR History (Best Seller Rank). Those features are available only for Premium package. You can also use another solution for this such as SpyAMZ.
Use SpyAMZ tool to find Best Seller Rank
Besides, if you do not use Chrome, your Merch by Amazon research would be more complicated as you will need to click on every single item to find their ranks. SpyAMZ can help you search for ranks in any browser.
Just login to Merch by SpyAMZ and click on Best Seller Rank, it will display to you all the best-ranked items at the moment: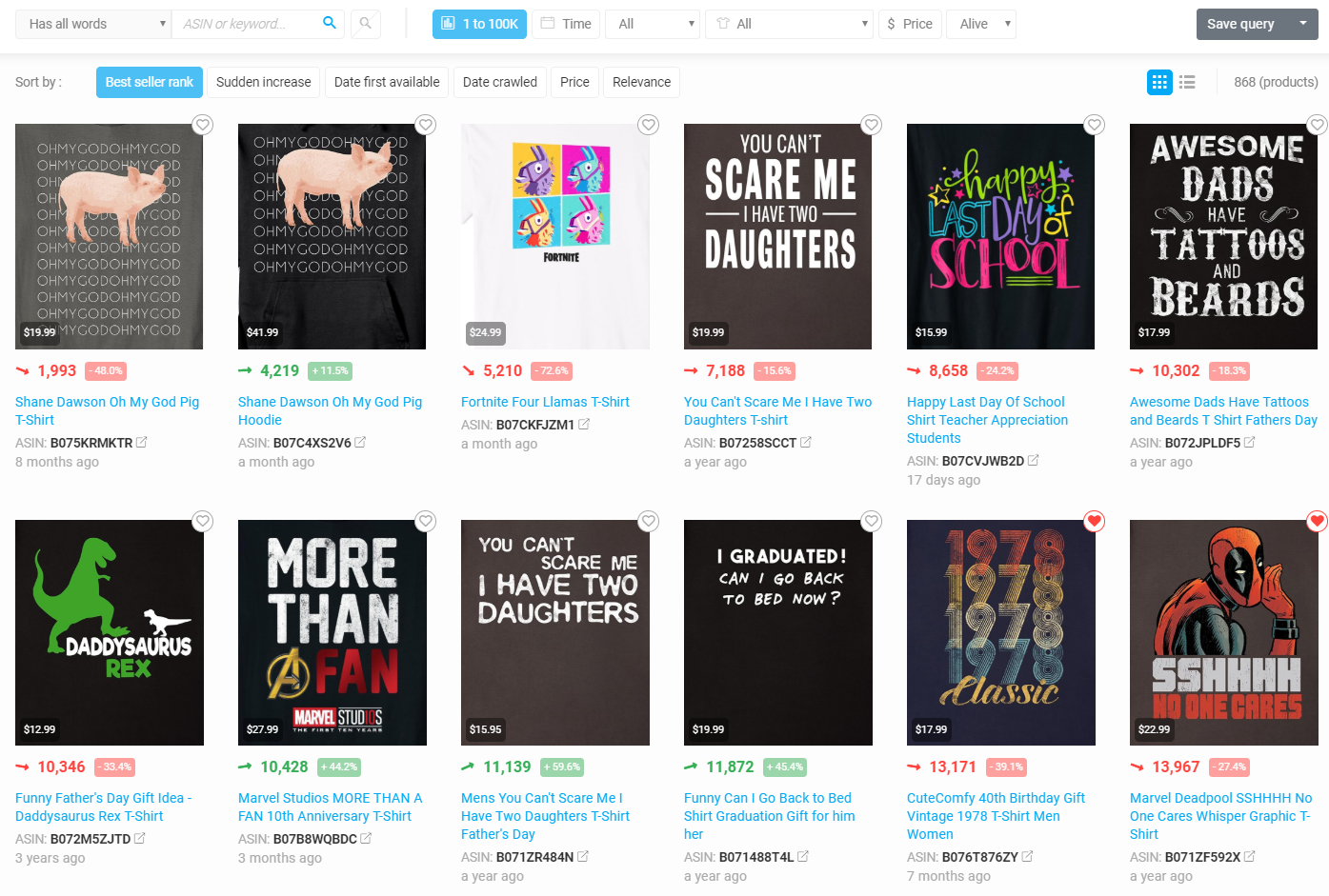 You can also find Price history and Rank history of all Merch items with this tool, along with date first available and t-shirt types.
Lower Rank = More Sales ||| Higher Rank = Fewer Sales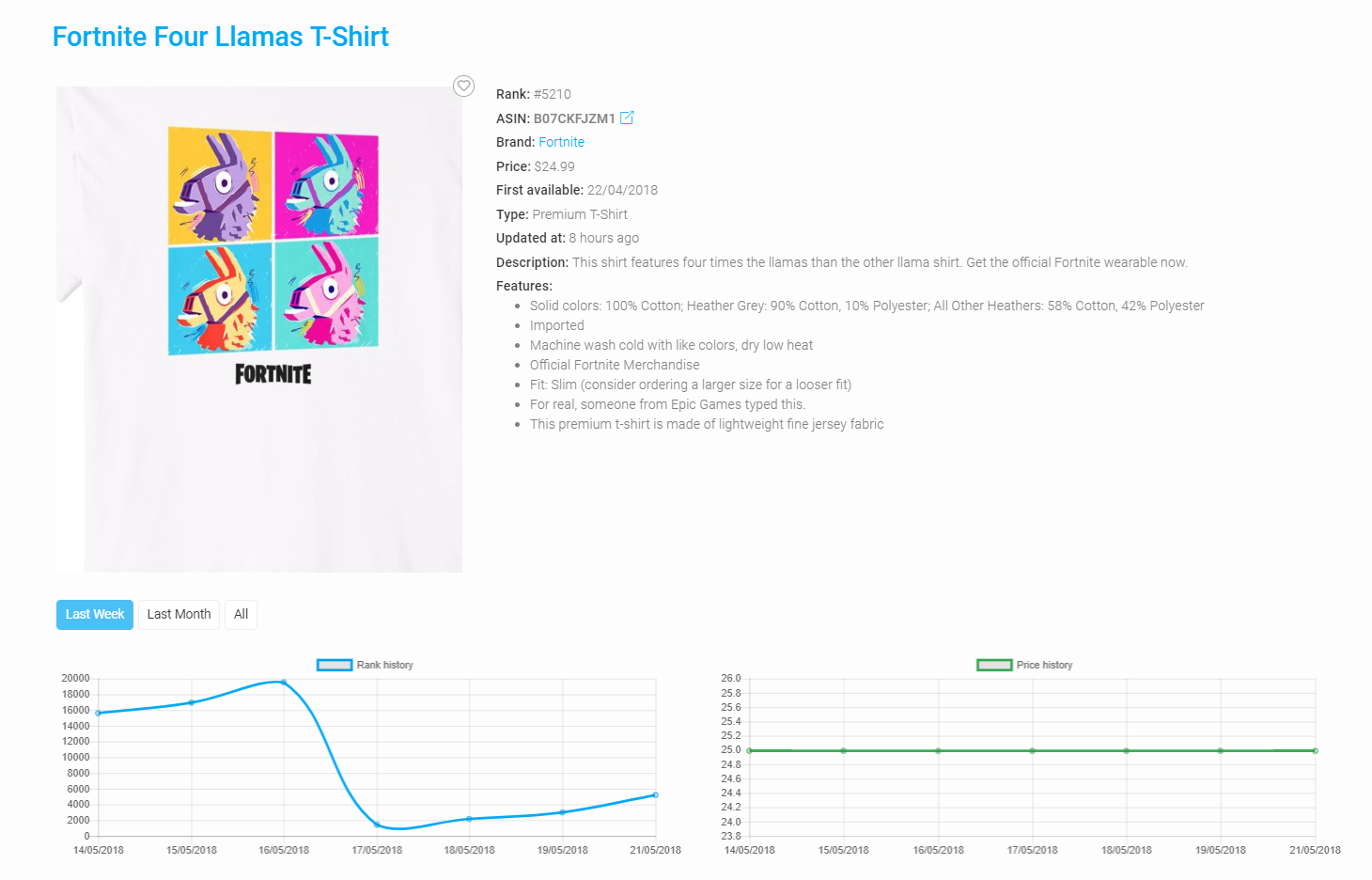 However, Ranking only is not enough. To get more sales, you will have your item optimized with keywords. To know how, please check out our guide on Merch by Amazon Keywords HERE. For now, let's just concentrate on the Ranks.
Roaming around all of those items, I guess you can have an idea for yourself now. As for me, I will choose the niche "Unicorn" because they are cute.
Extract the Idea
After having found the best seller ranked items, it's time to picky pick. For the niche "Unicorn", you can add the words "Unicorn" to the end of the magic phrase on Amazon search, or just search for Unicorn items on SpyAMZ.

The choice's yours, you can pick up any design that you found it was great! In general while doing Merch by Amazon Research, I always look for items with rank <200K, which had sales each day.
Keep in mind that Rank changes, especially those items are about seasonal events like sports, holidays, political or tragic events, natural disasters, etc. 
Therefore, for those who are new to the Merch game, I think "Evergreen niches" should be the best choice for you. Based on data above, you can find yourself a solid design to get inspired from 🙂
Avoid Trademark poison
Candies are sweet, but there are some you cannot eat. Because they probably have "Trademark" poison inside. There are thousands of design was killed every day due to Trademark/Copyright violation. Moreover, if your Merch account gets 4 – 5 items killed by Trademark poison, the account will be gone, forever. Just like that, suspended and closed.
Recently Amazon tends to strike really, really hard on Trademark matter. Thus, you must be very very careful while finding ideas to avoid it. But do not worry, SpyAMZ gets you covered. You can easily search for trademark in Trademark checking.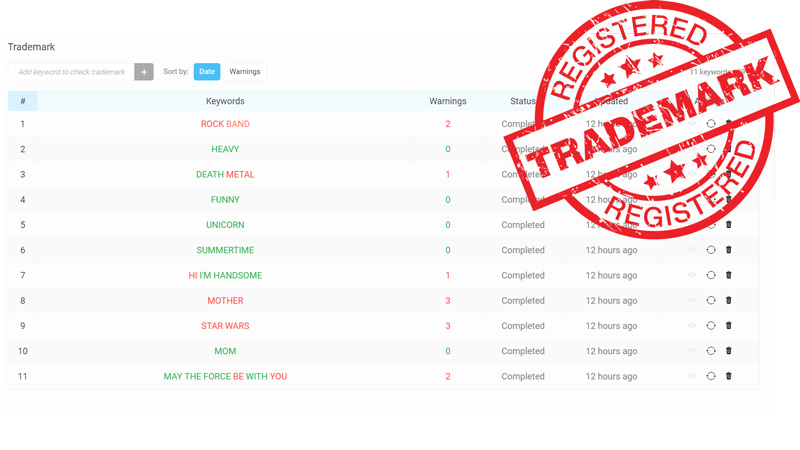 Start your Design
Now, you have found your inspiration, good. It's time for magic work with Adobe Photoshop or your preferred image editor. Don't work passively, be active. Merch by Amazon might take some time to send you the Merch Invite. So in the meantime, be ahead of the curve by starting your design already. When you received the invite, all you need is to upload your artwork, Ta-da!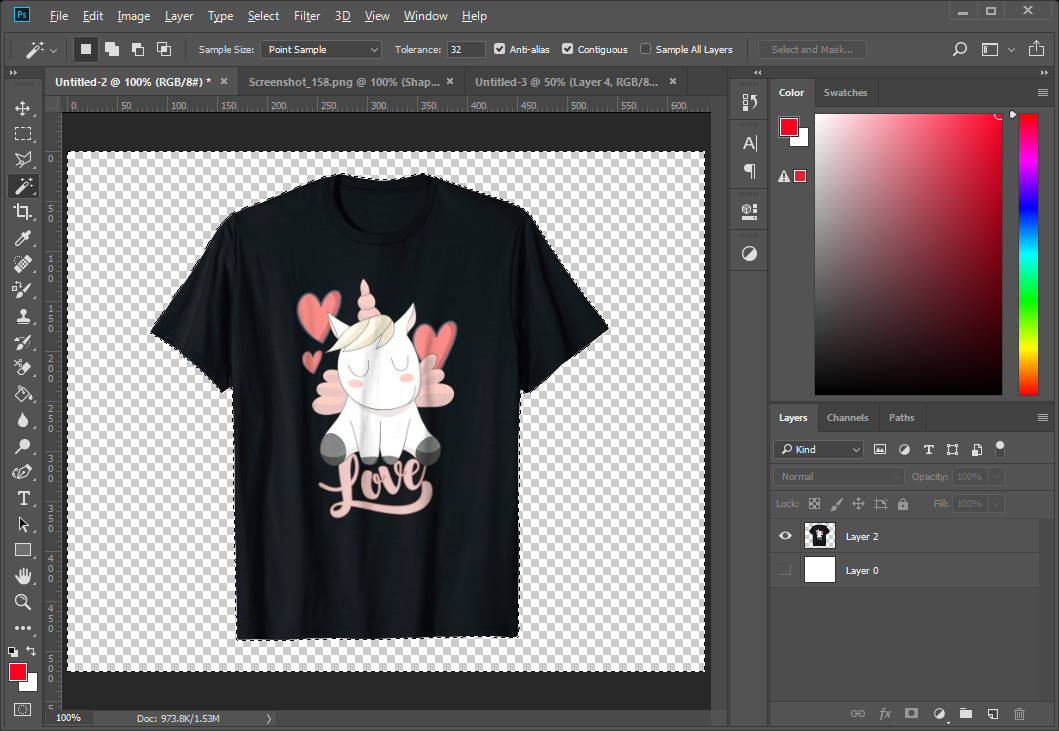 You might have a wonder why other's T-shirt look so nice, what images, vectors and fonts they are using? What type of layout that makes them so attractive?
Merch by Amazon items can have variables, but most of them are divided into 3 categories:
Text-only

Image only

Text and vector
You can learn a lot from the others and at the end, it's you who determine which one your design is gonna be. Try to be creative at maximum, make vectors and text become more unique and eye-catching, I believe you can. However, I recommend do not copycat other's designs. That's not nice, seriously.
Some other sources for research
Viral Sources
Social media like Facebook, Twitter, or places like Tumblr, 9GAG, which has thousands of viral niches. quotes every day with awesome memes or troll events. They all are the great sources for you to get inspiration from. You can use some legendary meme like "It's over 9000" or "One does not simply…" within your T-shirt, make your design sounds more fun and easier to spread.
You can also look for hot trending on Twitter with most popular hashtags, see if you can find a thing or two?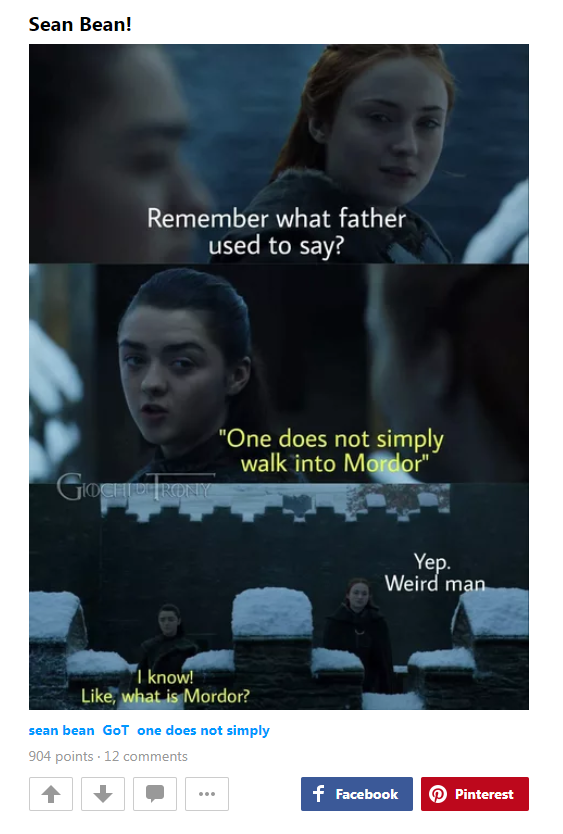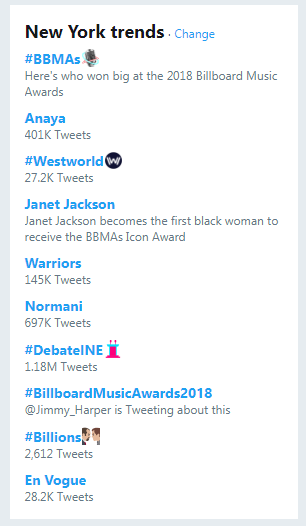 Trends are another kind of idea, which can rise very fast in ranking and very easy to go viral. Most of them are seasonal events so we if you want to check on Trends, please visit How to find Profitable Merch by Amazon Design Idea. You can find trends in a variety of ways, and Twitter can be one of them.
Other T-shirt Platform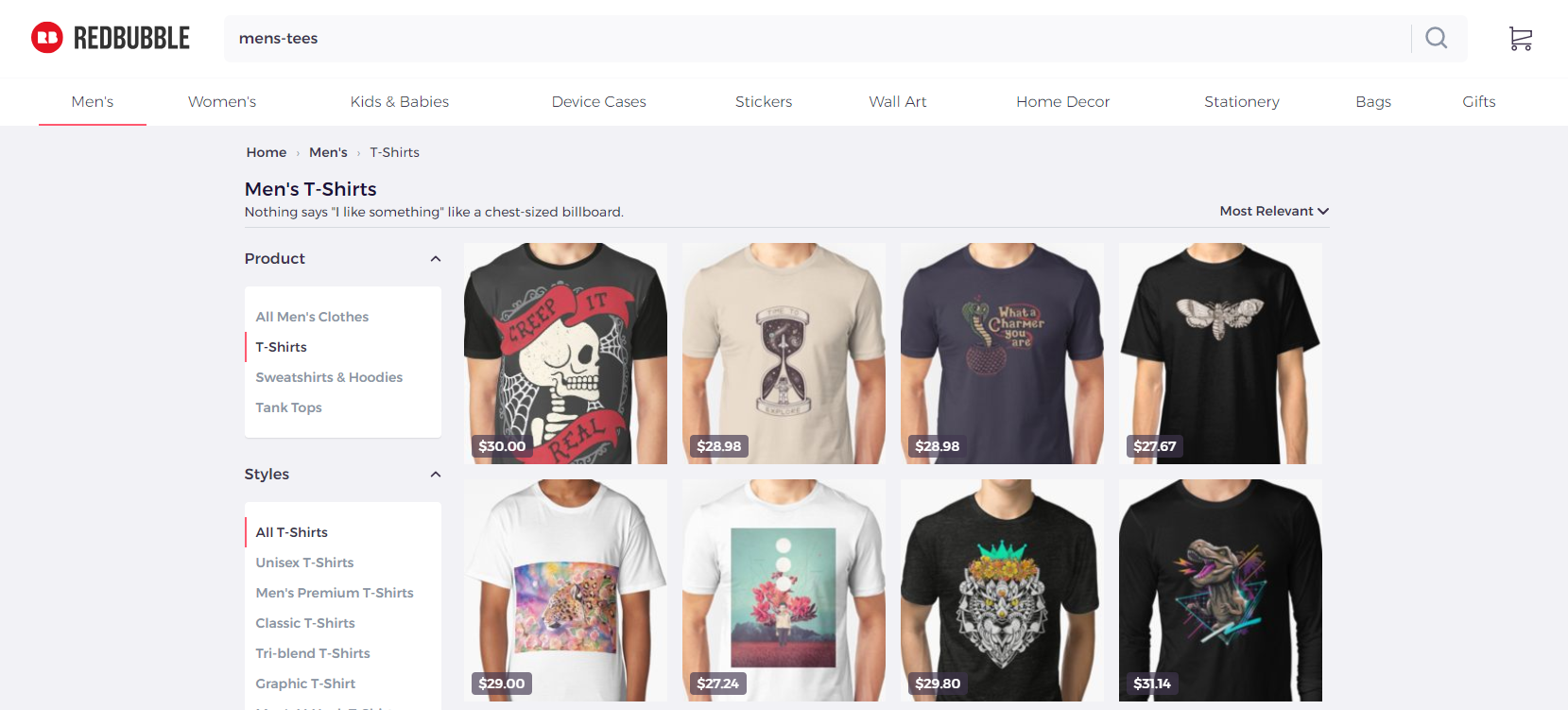 Research / Spy Tool for Merch by Amazon
You can have a sidekick for your Merch by Amazon research: SpyAMZ. It includes 8 millions of t-shirts database, along with full detail for every single item. You can easily search for Best Seller Ranks or Sudden Increase with it, along with many filters like time, price, types or status. It also provides Keywords Analytics and Trending items to help you identify ideas and trends.
Another thing that SpyAMZ can help you avoid the Trademark hammer with Trademark checking, you don't have to worry about TM again 😉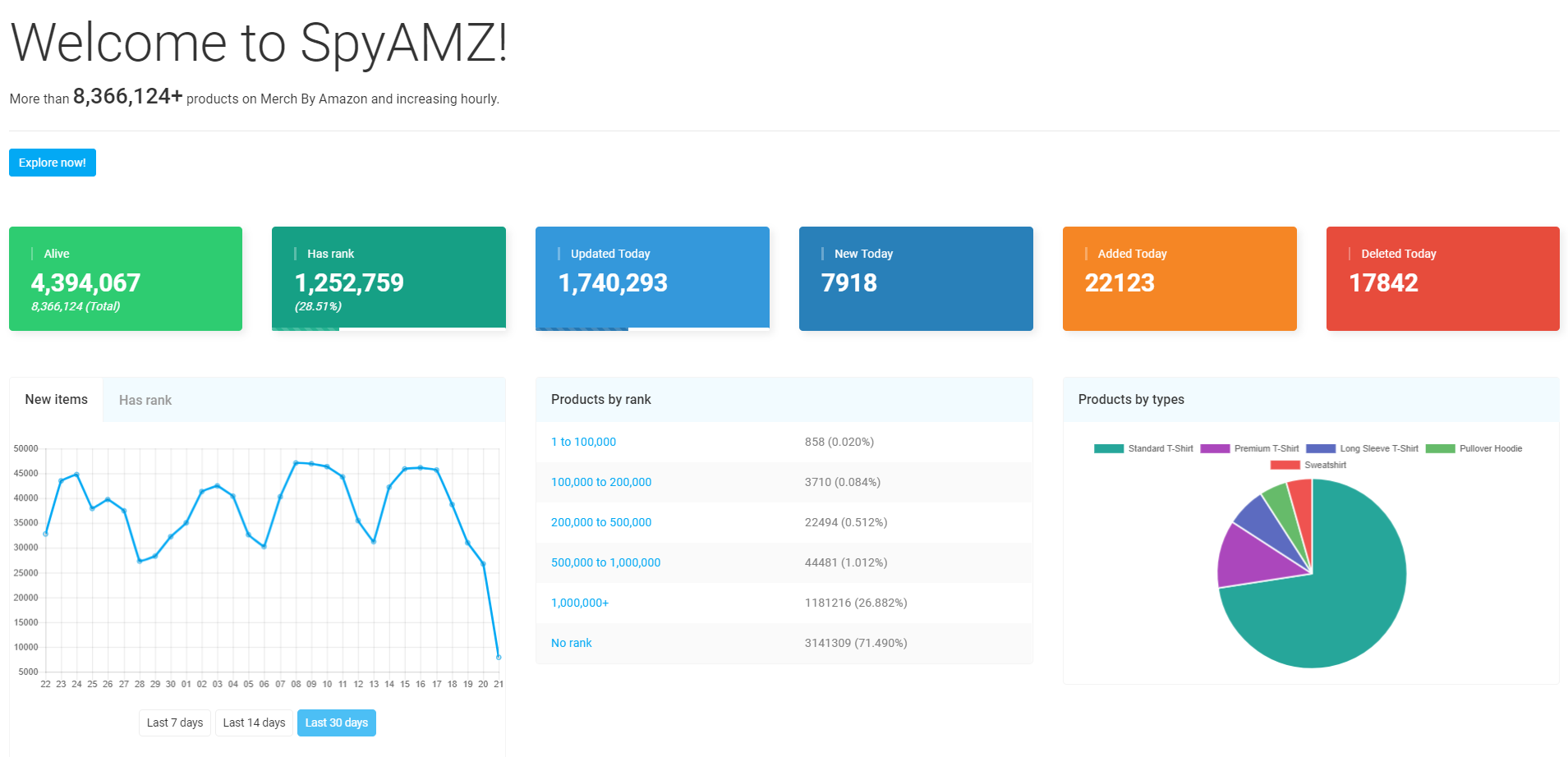 Final words on Merch by Amazon Research
One does not simply use one method to do Merch by Amazon research. You can combine many ways to get your best result of the research. You can use Amazon search and a Chrome extension to get it done, or use SpyAMZ to research them more professional and effective with less effort.
Another requirement is you must be sensitive with global news and trends, having a wide knowledge over viral field, especially meme or quote. That should help your items easier to get viral or sound funnier.
For any consult and advice, you can always ask us via our Facebook Community Group, we're love to help and happy Merching 😀