What is Merch by Amazon?
Merch by Amazon is a t-shirt printing on demand service helping you increase revenue through the sale of branded t-shirts designed by youself. With Merch by Amazon, you can create and upload your artwork of the T-shirt for free. Amazon will do the rest: selling, producing and shipping them the T-shirts to customers.
Why Merch by Amazon?
An amazing questions! Merch by Amazon is a simple way for you to get started selling branded merchandise from a product page on Amazon.com. The great part of this platform is that there is no risk or out-of-pocket cost to you, no overhead and no hassle at all. The super-sized Amazon's traffic every day will be your endless source of customers. And of course, there is NO advertising activity.
So, why you do not try Merch now?
Simply sign up for a Merch by Amazon account and set up for it, then upload the designs and click submit. Amazon takes care of the rest. You will take the commission based on the price of your T-shirts and the cost of the base shirts from Amazon.
Remember, with great benefits of Merch by Amazon, there will be many stiff competitors. You can create anything you like, but maybe no one has interest on it. Or you can take smarter decisions and sell t-shirts that you know people will buy. In the following words, take a look at the ultimate guide for Merch by Amazon in order not to waste your time in doing insignificant thing.
Let's get started!
SIGNING UP FOR AN ACCOUNT
Merch by Amazon was a massive popular program when it first launched. Due to the extremely population, Amazon quickly tighten the registration terms to new applicants. The only way to join Merch by Amazon is signing up to a waiting list and requesting for an invitation. The waiting time can be different between users, normally from 3 weeks up to 3 months (or even maybe your request will be rejected).
The best thing you can do is heading to here and request an invitation. While waiting fot the account, following the steps below to gain as much knowledge as you can. Then you will be ready to start your business by the time your account has approval.
Once your account goes live, you will be able to login and fill up your information. Then, you will see something similar to this: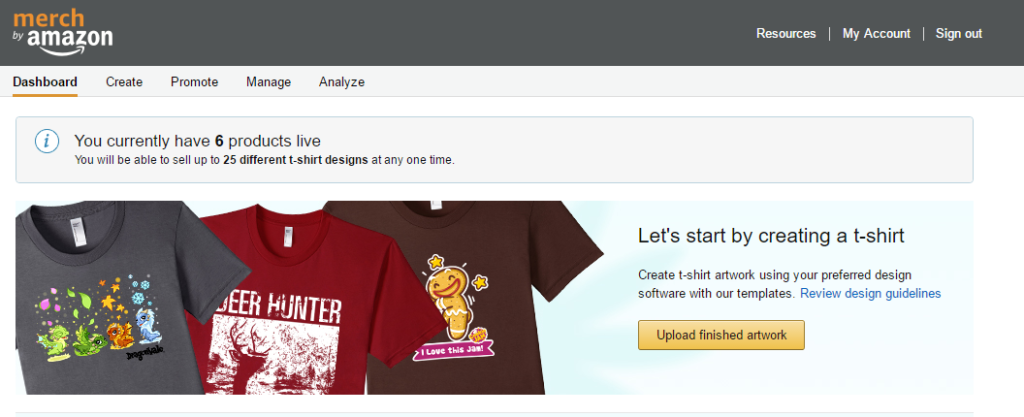 This is your Dashboard where you can upload designs, promote your products, analyse sales…
But before getting to know the Dashboard, you need some things to get started with Merch by Amazon:
Alive Merch by Amazon account

Photo Editor/Design Software: Adobe Photoshop, Adobe Illustrated

Your creativity, your ideas
Merch Tiers
All Merch accounts will have a tier depending on the sales of each account. Here's Merch Tier list:
Tier10:

10 designs

Tier25:

25 designs

Tier100:

100 designs

Tier500:

500 designs

Pro:

By Invitation Only
At starting point, you will be at Tier 1 corresponding to 25 designs. That means you are ability to upload 25 designs. After selling 25 t-shirts of any design, your account will be upgraded to next tier.
It is ensured that you don't want to be stuck at the first tier and sell no t-shirt. Therefore, the first 25 designs seem to be critical to your success. Carefully research for these 25 shirts will help you jump to the next tier. After first tier, you will have more ideas and of course you will be able to create better designs for your customers.
PLANNING FOR YOUR BUSINESS
Before creating and uploading designs, you first need a plan for your Merch account. You should know what exactly t-shirts you are selling. Asking these questions will help you to have good ideas:
Who are your target customers?

What will be illustrated in your t-shirt? (images, quotes or both)

What shirts are the hottest sellers?

How do you come up with design ideas?

Is there any similar design to your idea? How is it selling?

How will you create your design?
By answering these questions, you will be clearly know what you need to do and what ideas you will follow for your t-shirts. Like mentioned above, you could create whatever you like, but there is no guarantee for them to have sales. Without any advertisement, how can you get your customers? So, let's make a completed plan starting with doing market research.
RECOGNIZING MERCH T-SHIRTS
Before starting doing any research, you need to know which t-shirt is from Merch or not. Once you recognize a Merch t-shirt, you can check the best selling rank to see if it going well on Amazon.
There are few tips for finding Merch t-shirts. All Merch listing will have mutual things: same size chart, white tag and a same sentence in description.
Size chart: All t-shirts of Merch has the same size charts which are the basic chart of Amazon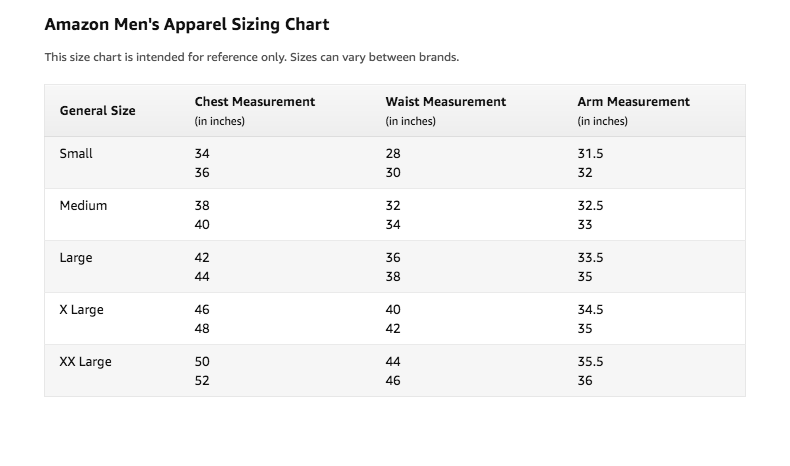 Visible white tag: A t-shirts of Merch will have a white tag like this:

Same sentence in description: All Merch t-shirts should have a same sentence in description: Lightweight, Classic fit, Double-needle sleeve and bottom hem. That will help you in searching Merch t-shirts by including this sentence with the searching keywords.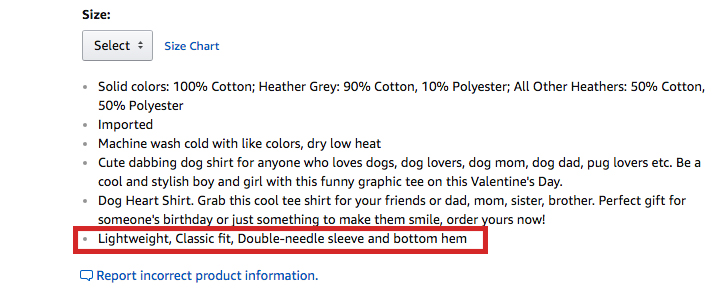 Note: any listing with a model wearing a t-shirt will not be from Merch.
AMAZON BEST SELLERS RANK (BSR)
After finding out which one is from Merch, you need to know how they are selling by checking the Best Seller Rank of the shirt.
The rank will be displayed on the listing, in product description. If using Amazon mobile app, this part is on "Features and Details" section.
The Amazon Best Sellers Rank will show how well the t-shirt is selling. The lower this number, the more sales it gets. If a listing does not have rank, that means that 0 t-shirt have been sold. Anything ranked 50,000 or lower is selling few items every day.
The purpose to do this is using the designs for inspiration, not to copy and paste to your own one. Finding a t-shirt with low rank will help you to know what customers are interested in. You could decide to follow that idea and create a similar design but using different vectors, different fonts. Or you can make a different one that makes you believe your customers will purchase for it.
BEAWARING THE COMPETITORS
What will happen if you follow a good ranked t-shirt which is on top 100,000 BSR? You should enter the keyword and search in Amazon, you will see a list of hundreds competitors who have similar designs. Would this be a good idea?
In most cases, the answer is NO.
That shirt could have low BSR rank but it doesn't mean if going for same idea, your product would be competitive and optimal. And of course, you still need to face with other sellers to get a sale. The goal is to come up with at least 25 designs, around ranked 100,000-150,000 to use as inspiration.
Then, when you have over 25 designs, it's time to create your shirts and upload to your Merch account.
But, it takes you long time to catch an idea that you want to follow. So you can use Merch tool such as SpyAMZ to minimize the time on research. With the giant quantity of data (7 million t-shirts and still increasing), SpyAMZ is the most useful tool for Merch sells and merchants on catching the hottest trends and doing their market research.
CREATING YOUR PRODUCT
If you already have your idea and design, it's time for you to create your artwork and upload to your account. Amazon provides templates for different designing softwares:
Adobe Photoshop Template

GIMP Template

Adobe Illustrator Template
You can easily download them from the Dashboard.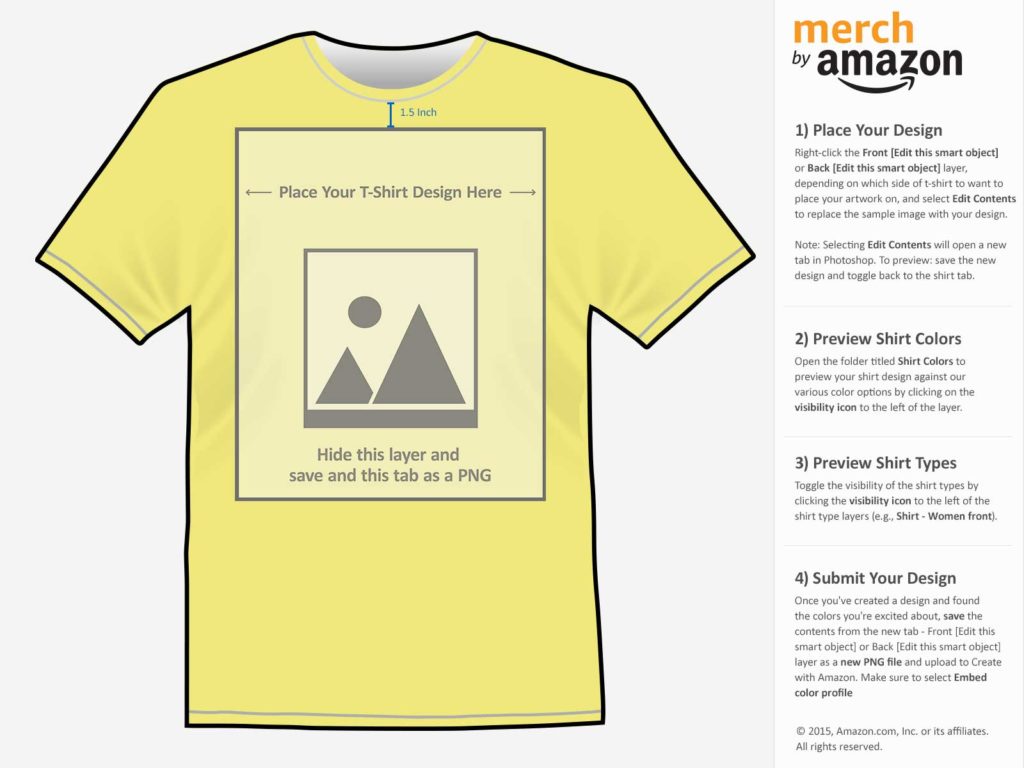 It will be more convenient for you. You just need to replace the sample image by your one. Add anything you want (images, vectors, quotes) and make sure to use high quality versions. Remember to save your artwork as PNG file. Besides, you can also save PSD file (if using Photoshop) to edit your design anytime you want or re-use the layouts or elements.
If you want your designs look more professional or you have trouble in using designing software, you also purchase for pre-made designs of other designers. And then direct to Create tab on your Merch account to upload your t-shirts.
Merch by Amazon Designs Resources:
In order to get benefits from your research and new ideas, you need to make your idea become greatest designs. There are some design resources that can help you on making your artwork:
Free Vectors:
Vector files are images that can be scaled to any resolutions without losing any quality. They will help you to enhance your design. There are some websites that can provide you nice vectors:
Note: Remember to read the Creative Commons License for the image you are likely to use.
Free Fonts:
For the quote ideas, the fonts used are also very important. They need to be good-looked, well-designed and can demonstrate the meaning of your quotes. You can find a huge list of free fonts (typefaces) that you can install and use.
Again, make sure you check the licensing rights/copyrights before freely using these fonts on your designs.
Finally, if you already had your designs, then direct to Create tab on your Merch account Dashboard to upload your t-shirts.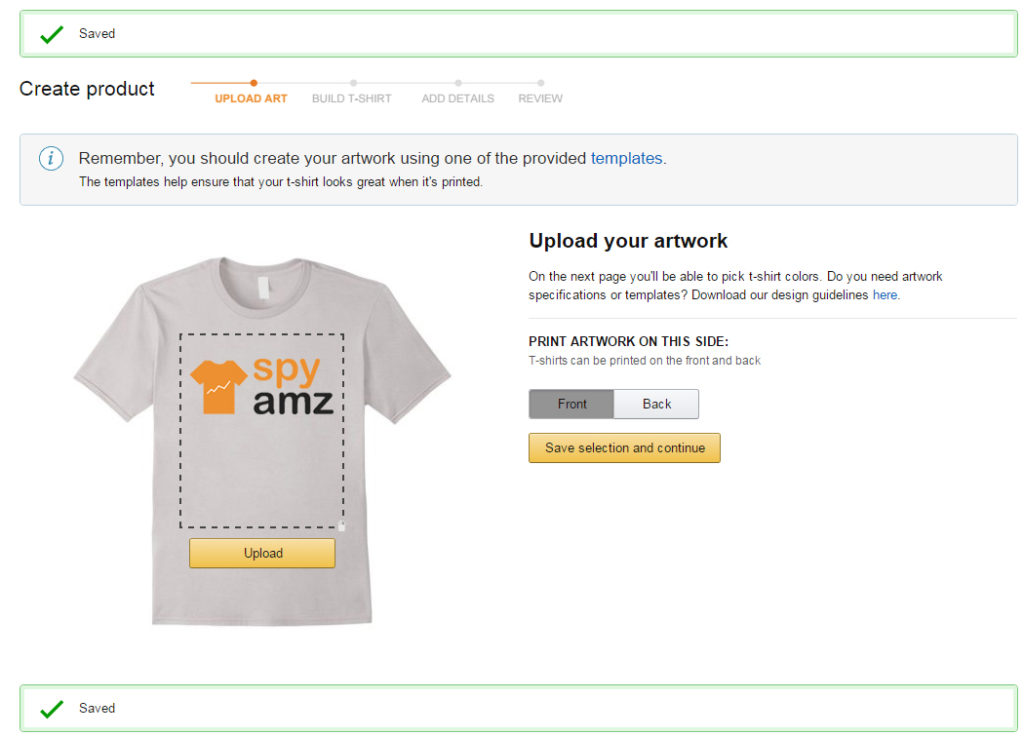 Remember to fill all the information of your t-shirts: T-shirt type, colours, price and add product details. You need to make sure all your descriptions are optimised to reach your customers through organic search. Then, when you submit your product, congratulations, you are now having your t-shirt completed on Amazon. After about 1-2 hours, it should go live and become searchable. Your mission now is just sitting and waiting for your first sales.
WRAPPING UP
There you go everyone! With the full and complete ultimate guild to start with Merch by Amazon, you know what to do now to get passive revenue stream with Merch. Remember that Amazon is a giant site with millions of traffic everyday, the best part is you do not need to do any advertising to promote your products. The more designs you upload, the more money you can get. Always do research to ensure your artworks are able to make money.
Good luck with your Merch game!
Subscribe to our newsletter and bookmark this page. We will give you many in-depth guides and videos that will show you various different strategies that you can use with SpyAMZ to truly take your Merch business to the next level!
If you have any questions, feel free to contact us via email: [email protected]