Welcome back to SpyAMZ, today I will guide you guys with the Merch by Amazon Keyword Research. As you all know, Keyword is one of the most important factors while Merch-ing. Not only based on the latest trends or your most creative ideas, but also it needs to stick with other common easy-found words that could possibly bring your items on top. Besides, it also has to avoid "Trademark" black holes that pulverize all your works.
For a small example, you're the brightest sun in the universe, but there's no one around to witness your light, then you're useless. That's why keywords have to stick together
How could I find the most suitable keywords?
Imagine you are in the middle of nowhere and don't know where to start. Your only thought is about making money with Merch by Amazon, so how do you do it? You might want to grab a bunch of keywords that useful and follow them up to get more and more relevances of course.
First, you will need an idea. There are a lot of ideas out there waiting for you to catch, but you're in the middle of nowhere so surely you don't know what to catch 🙂 keep yelling "WHERE is the KEYWORD?" won't help so you must need a guide, or you will need to find the way yourself.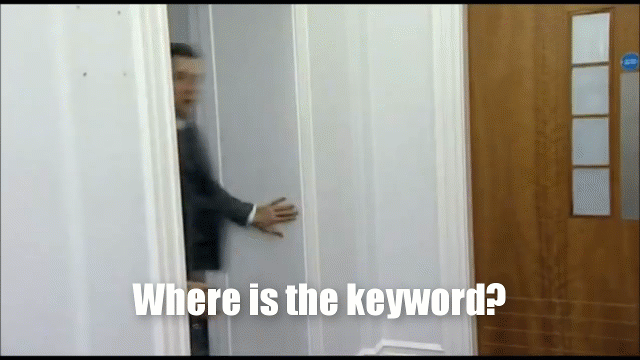 Luckily for you I will help you on doing Merch by Amazon keyword research. Thank God the yell has stopped.
1. SpyAMZ - our savior
Too Long – Didn't Read:
Access SpyAMZ.com and login.

Click Keywords tab to find the hottest keywords

Find the best rank items and identify their keywords

Click on Trending items to look at the fastest rising items
In the introduction video I've given you the most basic overview over SpyAMZ, including Keyword Analytics feature. This feature collects all the most famous and most popular words that appear on Amazon.com. It contains 3-word, 2-word and 1-word ones, along with the counts respectively. You don't have to brainstorm or dig or find or run around to come up with an idea. SpyAMZ can list them all.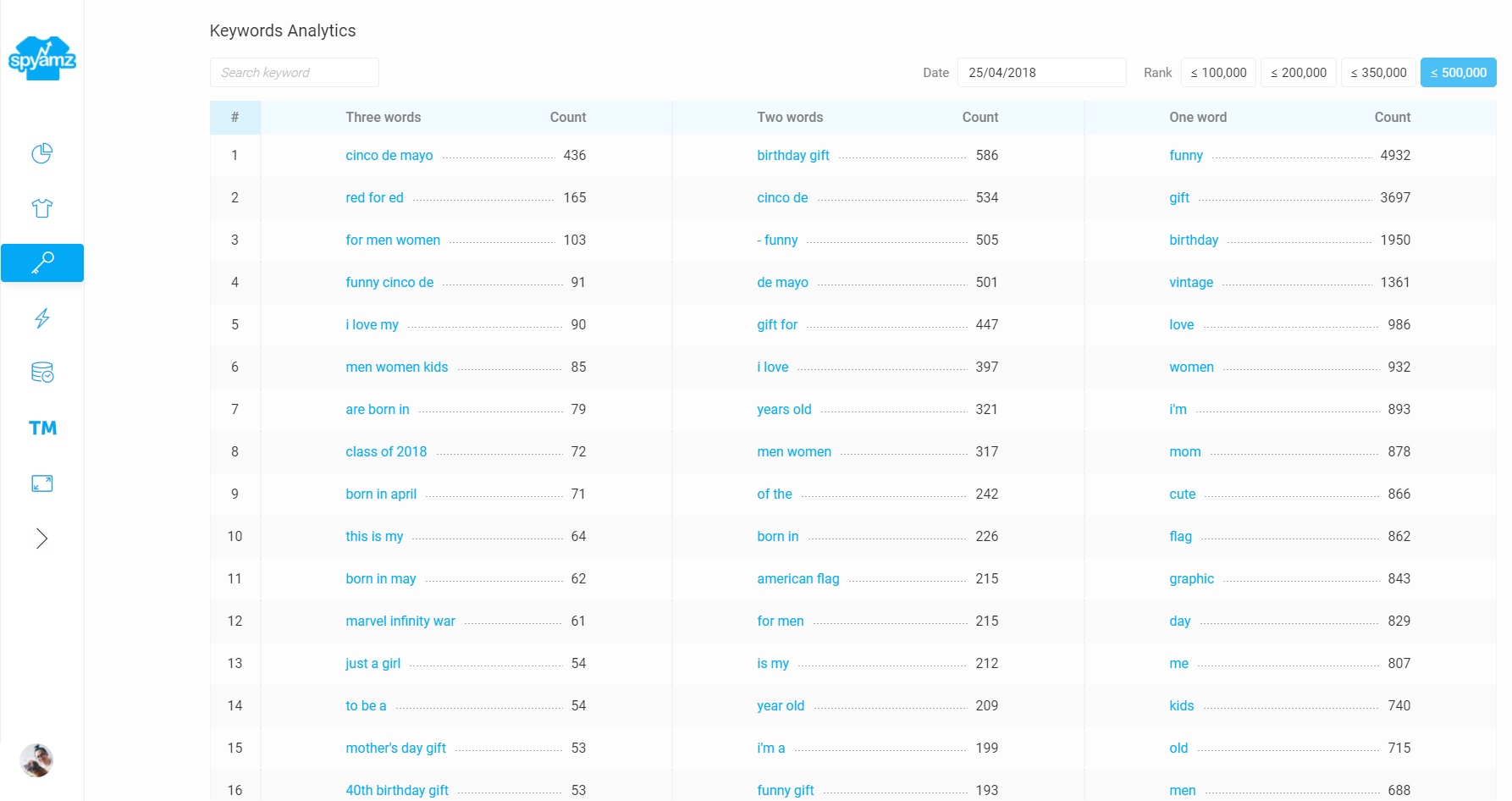 Ideas come from here, trends reveal here. You can find every idea and trend, suiting your niches. Also, you do not have to do anything, just one click and you'll have it.
Also, you can find the keywords via the best ranking items within recent 15-30 days. Access the Product tab, choose the Best ranking items with time criteria Last Week.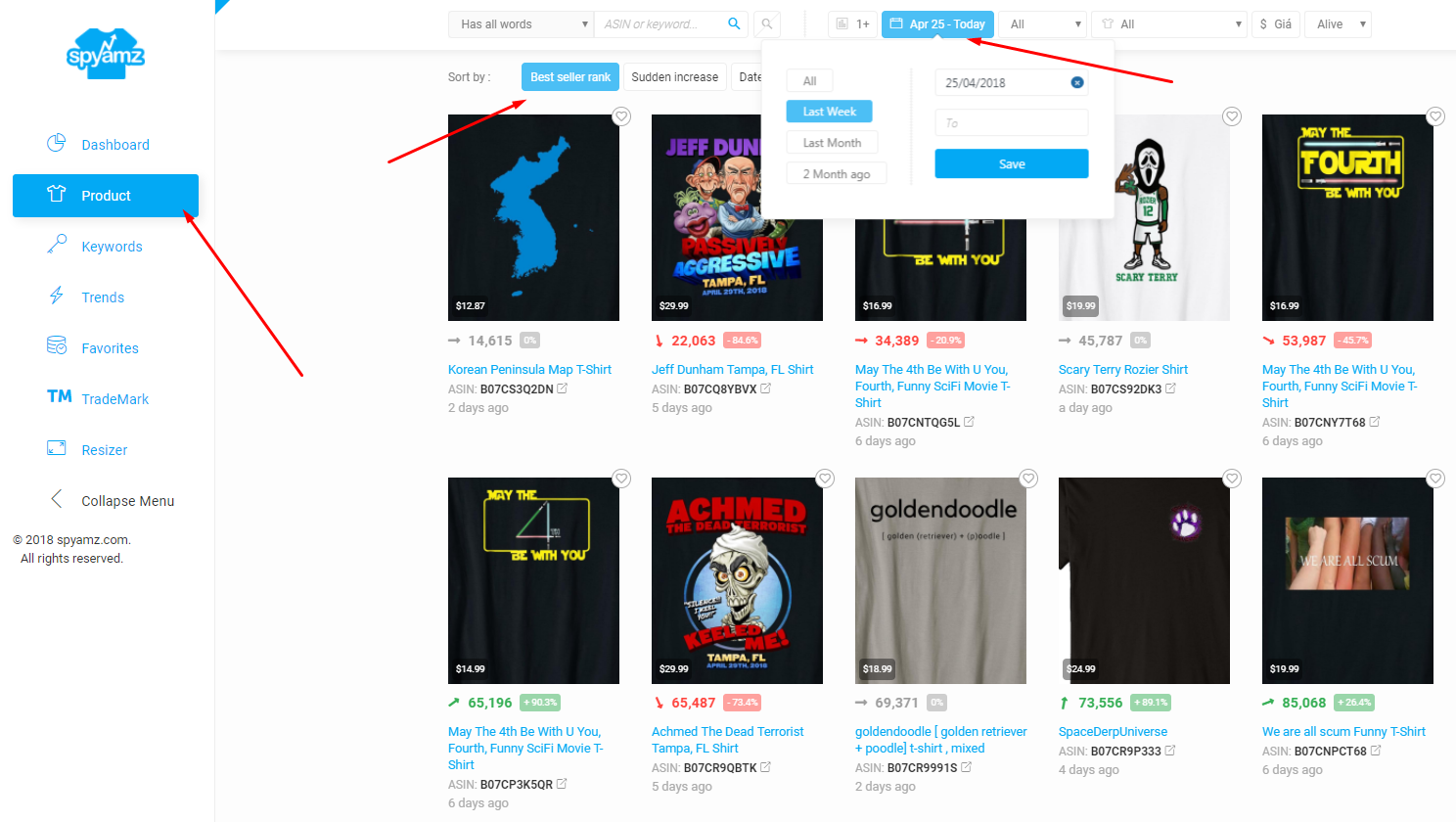 You can see May 4th is coming, which is "Star Wars day". There's a lot of items about "May the Fourth be with you". This is the hottest trend now, catch it now! The keyword is "May the Fourth"! But beware, Trademarks and Copyrights can strike!
There's another way to do Merch by Amazon keyword research with SpyAMZ, is the Trends tab. This collects all the most potential, fastest rising items and trending items currently on Amazon: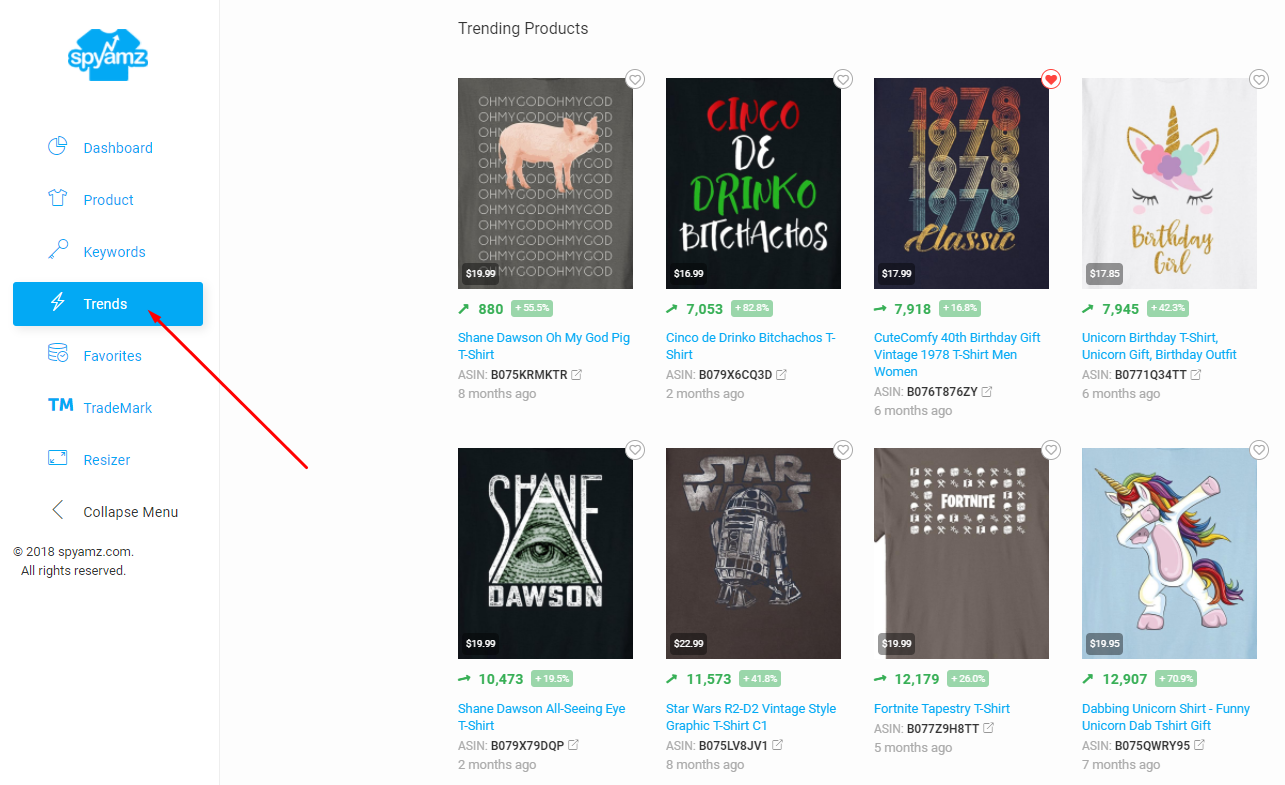 You can easily see, again is Unicorn, Birthday, Star Wars, there also many other keywords can help you either. With all these resources, you can have an overall sight of Amazon t-shirt market at the moment and recognize the trends easily. It's time to strike and catch the chance while you can. The most successful keywords will bring you the most money $$$ *ting*.
2. Google Keyword Planner - For those who already had direction
Too Long – Didn't Read:
Compared to SpyAMZ, this is a little bit harder, as it needs a target, a premade keyword to base on and the tool will give you relevant items, suggestions and other keywords. But however, this way is free for all and anyone can do it easily. It also gives you details for your budgets, serving your Adwords campaigns.
First of all you might want to go to Google Keyword Planner here and sign in. It will take you to this interfere: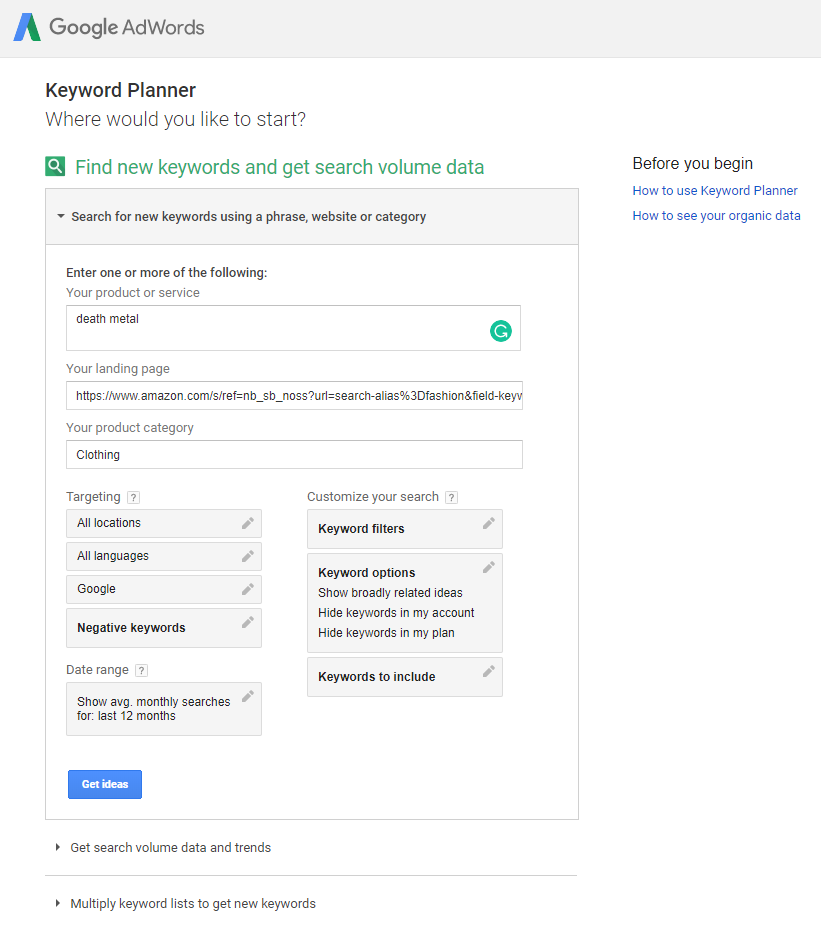 Enter your keyword, landing page and your product categories then. I will go for Death Metal, Amazon search page and Clothing category 'cause I love Metal 😀 Metalhead for life!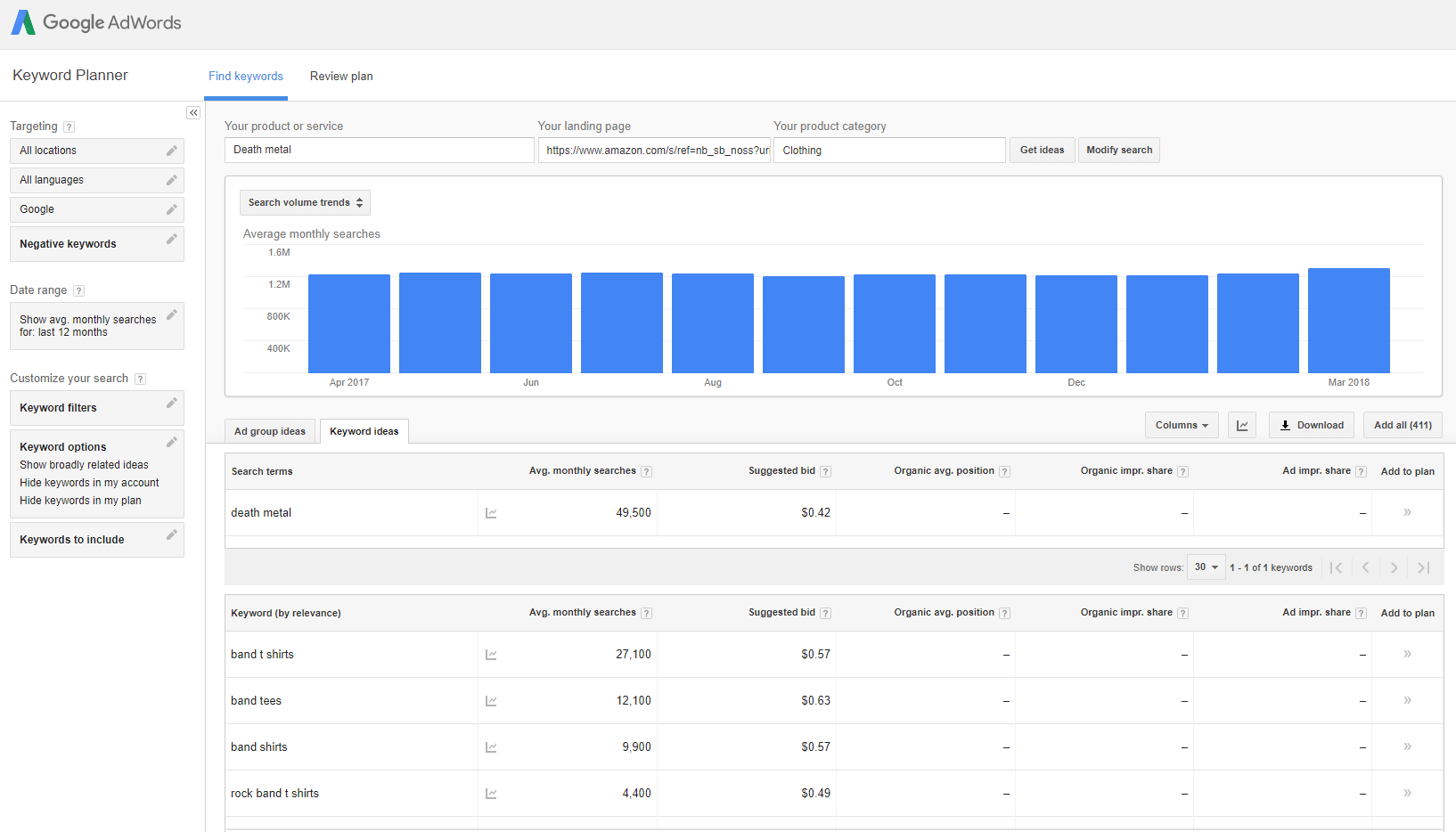 With this, you can figure out many useful indicators like Average Monthly Search, Suggested bid for your plans, Organic Average and many other. Hover on the Average Monthly Search will bring you a detailed chart. Also, Keyword Planner can give you some other relevant keywords you might want to use within your design and description to boost up the SEO.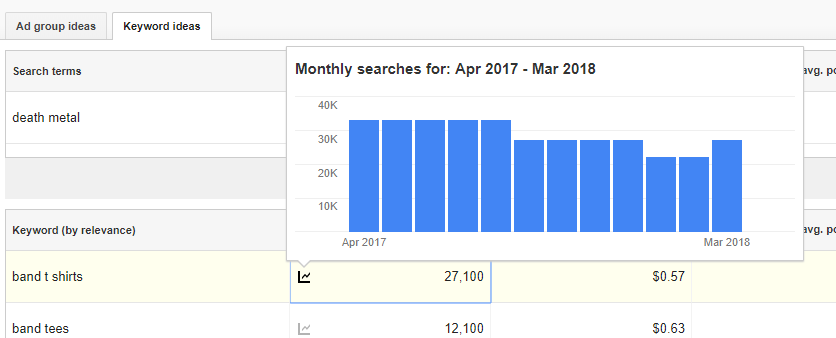 Keep in mind that the suggested keywords vary depends on your landing page, so you can try multiple landing pages to get the most effective results.
Moreover, Keyword Planner can provide suggestions for Ad Group Ideas: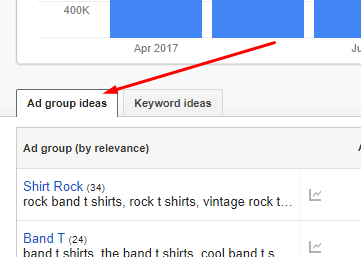 This will help you get the most overall direction and advice on your plans and ad groups. Save you a bunch of time eh?
Besides, you can save all the suggested keywords by Downloading them or Adding them into plans.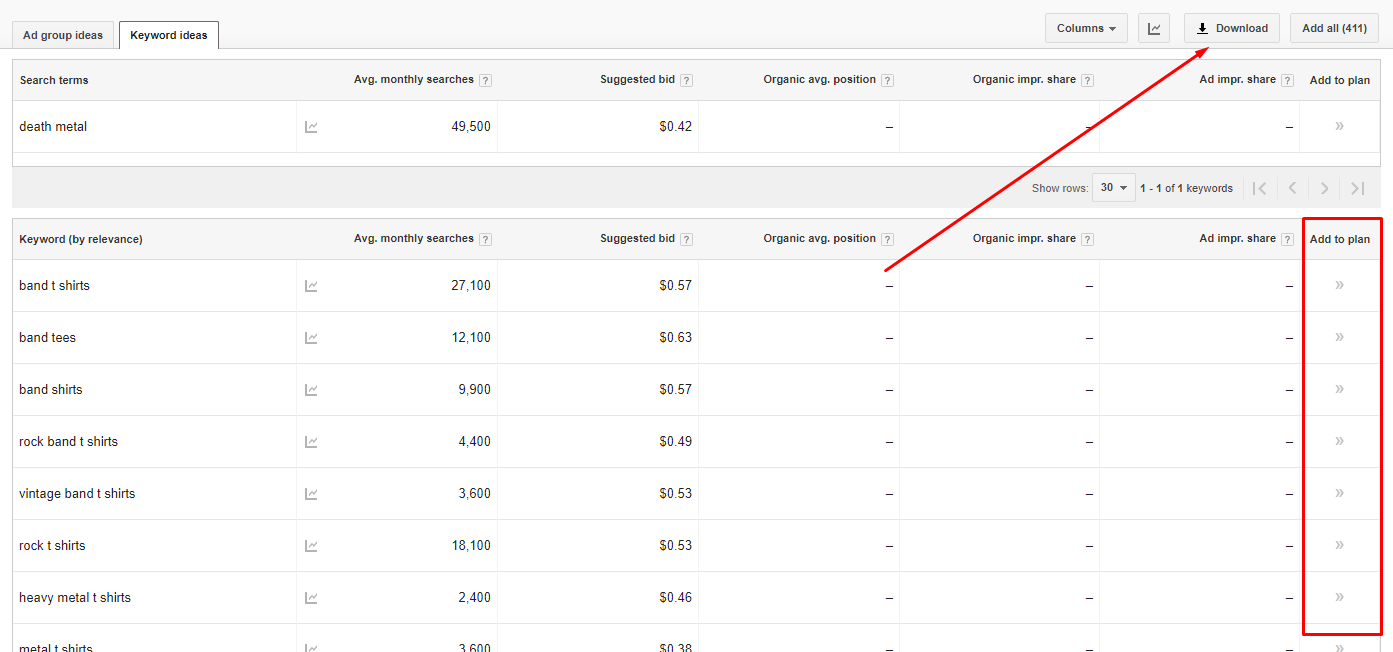 That's an easy way to do Merch by Amazon keyword research that might be useful for your ideas, niches and trends. However there are some other notable amazing ways, let's move on to the next one.
3. Moz bar + WordCounter: indicate the sub-keywords
Too Long – Didn't Read:
Install MozBar Chrome Extension

Search for your keyword on Amazon.com, within clothing category

Activate MozBar, click "Page Analytic"

Scroll for H2 tags, copy them all

Go to WordCounter.net and paste in

Look for Keyword Density.
This also need a specific direction on your idea, so that you can have an initial search to extract the information from it. Thanks Pow Innovations Marketing for this useful guide.
But first, I will need you to install a plugin called MozBar here. It's free and requires you to sign in.
Let's try again with Death Metal on Amazon search in Clothing categories: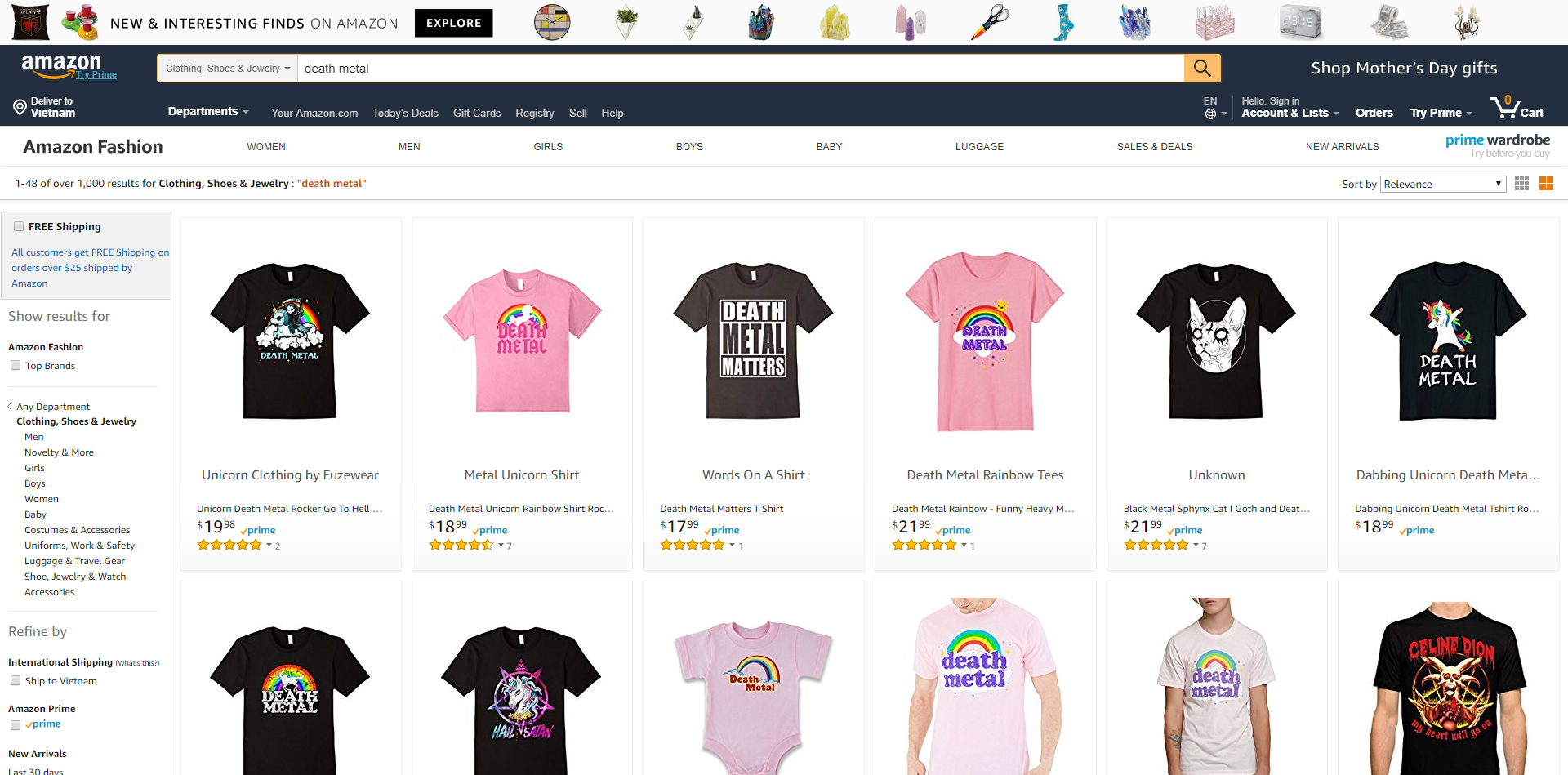 Activate the Moz bar and click on the "Page Analysis" button here. Scroll down for the H2 tags, copy them all to your clipboard.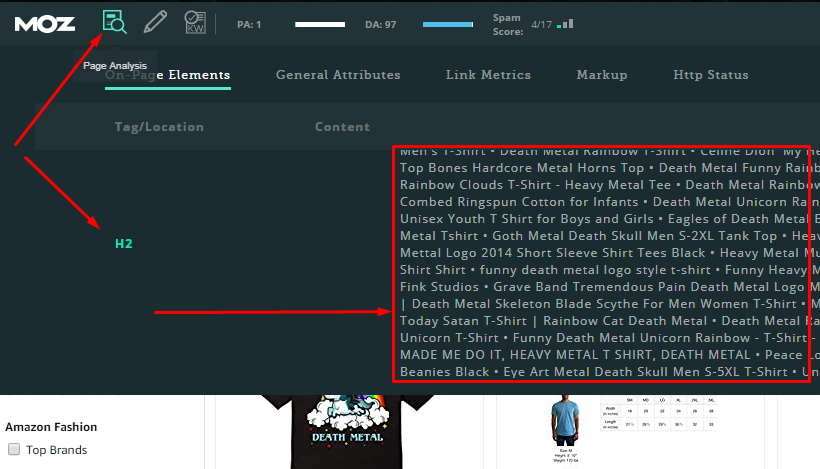 Go to WordCounter.net and paste in all of your copied stuff. It will give you specific details on many aspects, including Keyword Density. This is the most important thing. You can see Death Metal is not even so scary, but full of "Unicorns" and "Rainbows", so cuteeeeee! It's even "funny" too.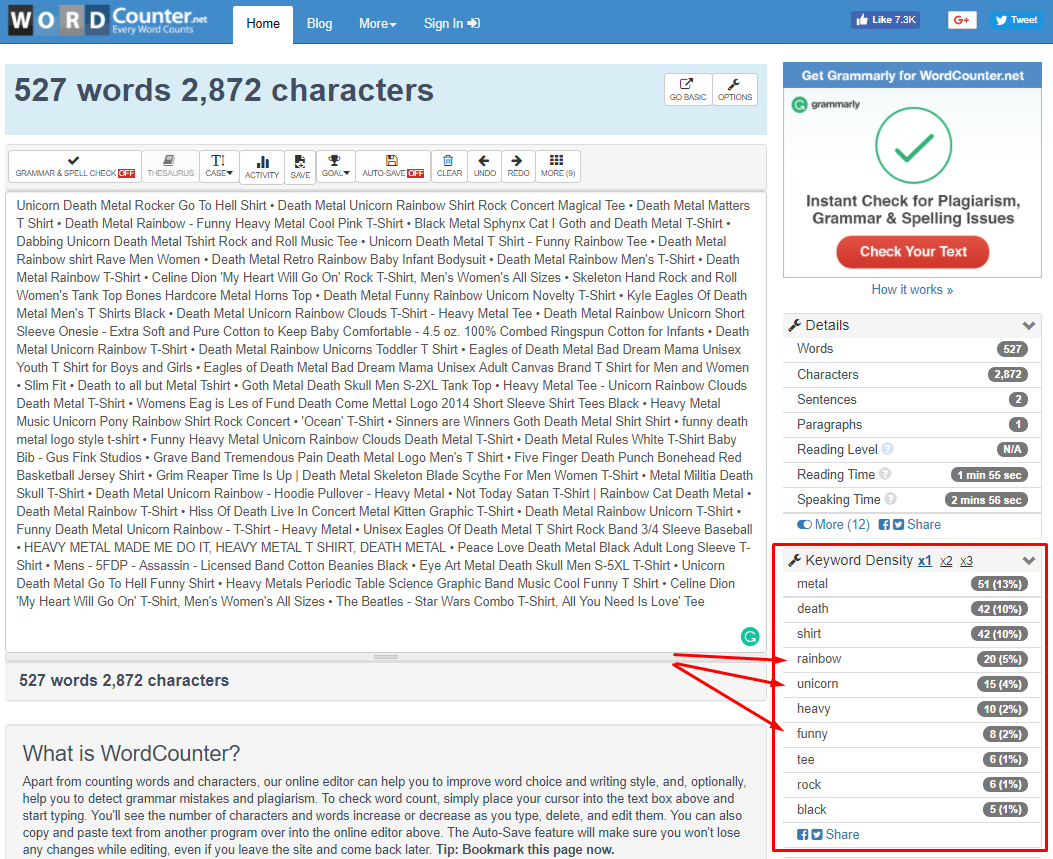 What does this mean? This means, there might be a lot of "sub-keywords" that is not relevant to your ideas, design themes, topics or trends, but in fact, they are there, right there next to your main keywords.
And another fact, they together are standing on THE 1ST PAGE of the Search result. That's where you aim for, so what you need is to mix all those sub-keywords into your items to get the best result standing for SEO. This way helps expand your relevant keyword pool and helps you achieve higher reach to many people. It is incredibly brilliant way to do Merch by Amazon keyword research.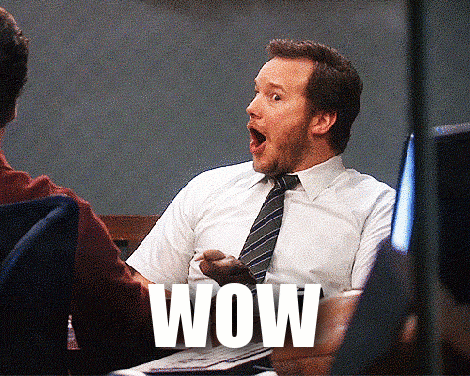 4. Keywordtool.io
Too Long – Didn't Read:
Same as Google Keyword Planner, search with your keywords

Extract information.
This way is pretty much the same as 2 above ways, which needs a base idea and keyword. Simply go to KeyWordTool.io for Amazon and input your keyword. Let's go, "Death Metal"! \m/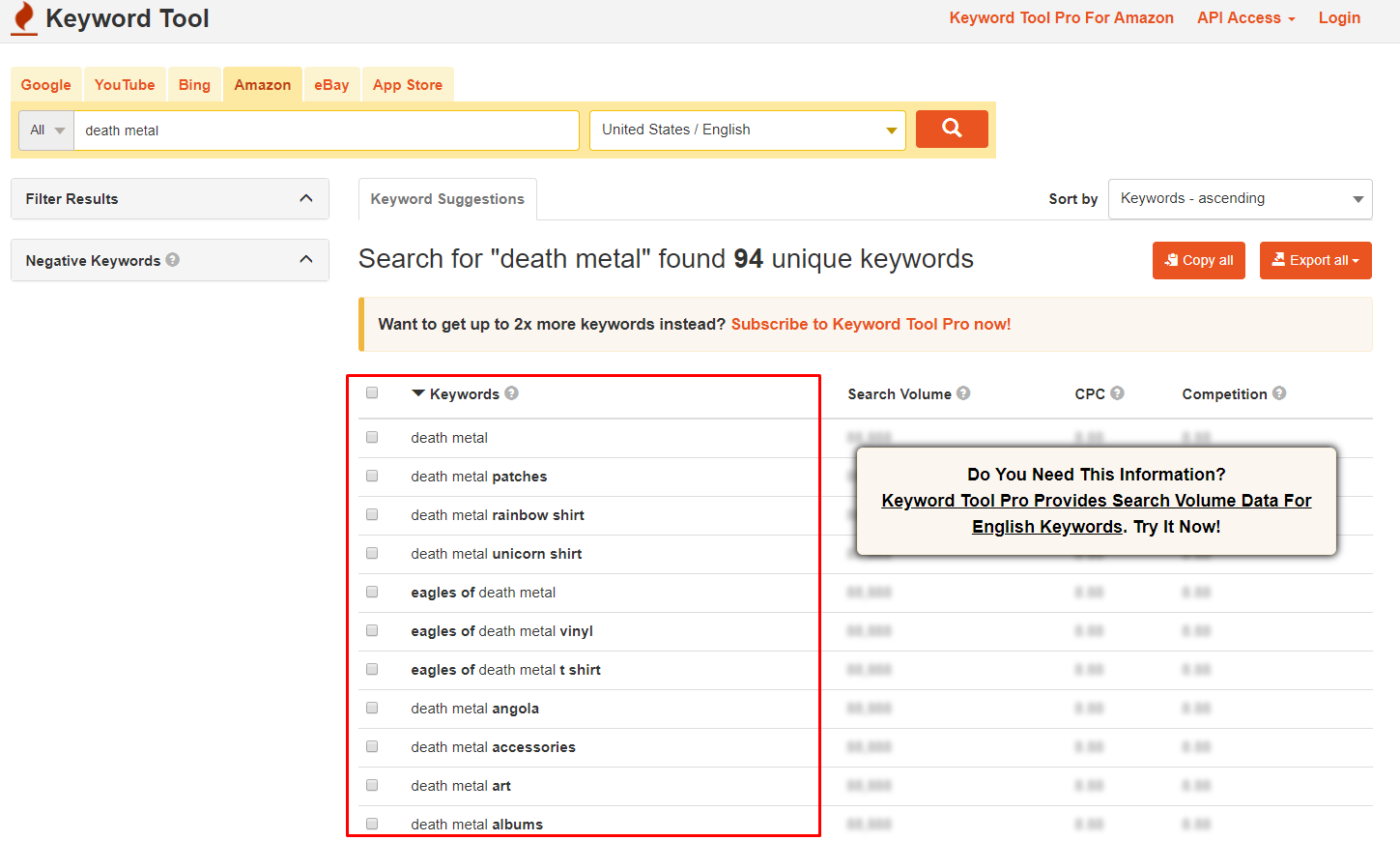 Sadly KeyWordTool.io locked some premium features as indicators, densities, cost-per-click, and competitive rate. But nonetheless, it gives you some relevant keywords and sub-keywords. Better than nothing.
Trademark x Copyright avoidance
This is a very hard section, because the considerations of Violated and Non-Violated is likely unclear, so I recommend you guys act with cautions while designing. With your found keywords, you have to filter the "Clean" ones only, which has no trademarks/copyrights relevance, avoiding ban or suspension. However, as the edge of consideration is not so clear, so trademark checking is for CONSULTING only. The last call is still up to you.
To do this, please access SpyAMZ, go to Trademark tab: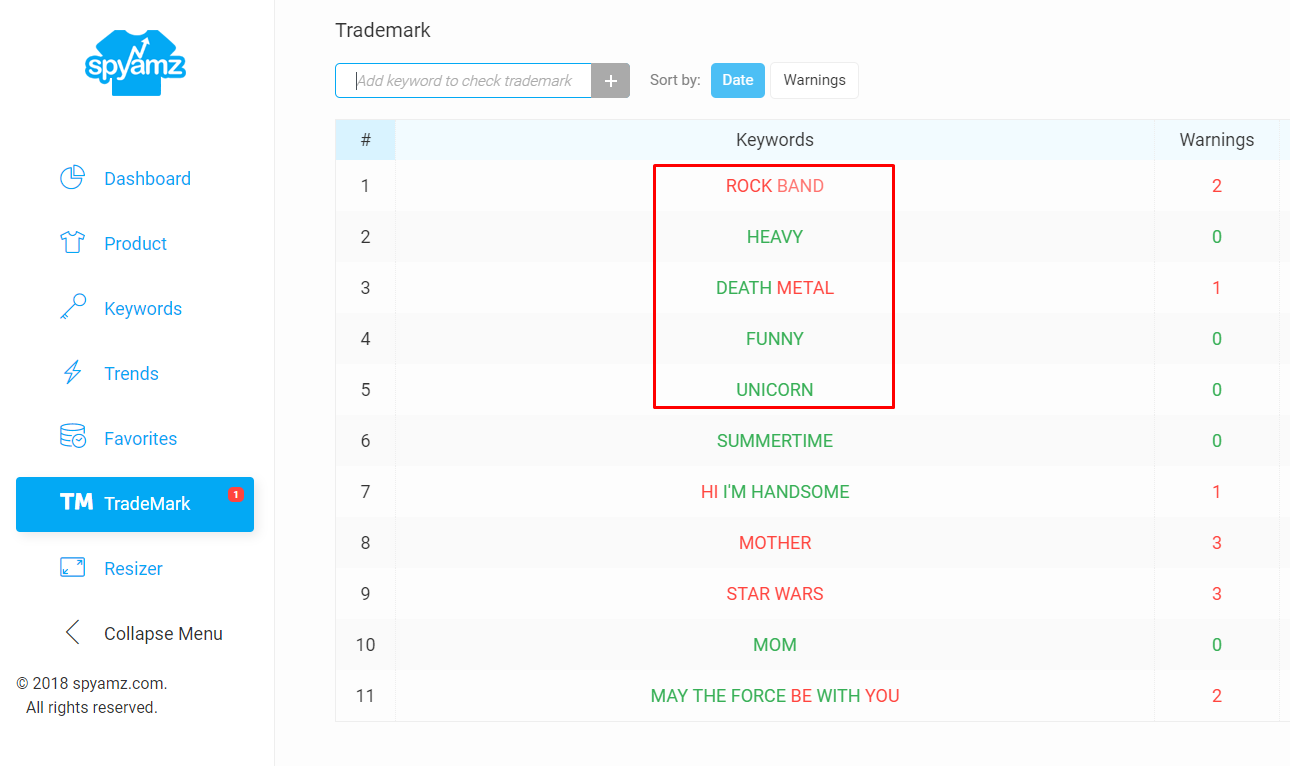 I've made some research with the keywords in our keyword pool, seems like everything is fine except for the word "Metal" and "Rock Band". However, we are using the topic of Death Metal, a strong heavy music genre, not Metal alone or the metallic Metal, so the Trademark hammer is not likely to strike on us.
In fact, there are lots of "Death Metal" shirts still alive for a very long time, so I think "Death Metal" is clean. But with "Rock Band" I will not use this keyword, because there's a game sequel named Rock Band for XBox from Microsoft, so I'd better remove this. As mentioned above, this is for consulting only, so my last call is still going with "Death Metal".
If you click on the red "Metal" word, it will give you the link to the source of that trademarks: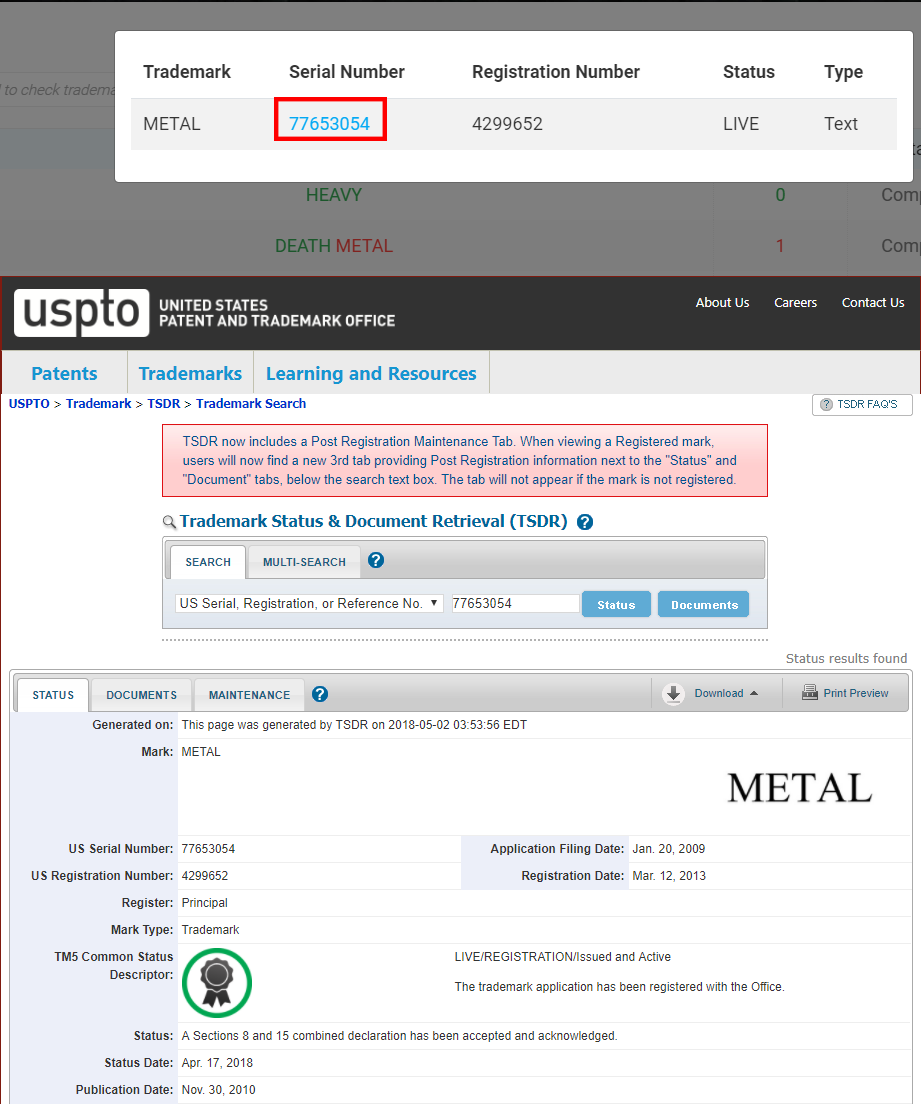 It's not that every keyword works, remember to remove the keywords you suspicious with Trademark and happy Merching either 😉
About Copyrights, there's no official source to list all the available copyrights at the moment, you will have to base on your real-life knowledge and social life experience to abandon the "Copyright corrupted" ones. The last call's yours.
I now have a bunch of keywords and relevances and sub-keywords, what to do next?
Everyone knows the more keywords and density you put in your items, the better the result gets. So, I want to make something clear for you first. We will have 3 editable text fields for each Amazon items:
Item name;

Item brand;

2 bullet points within item description.
Okay, after doing Merch by Amazon keyword research, I want you to optimize the keyword pool, based on the search volumes, densities and relevance to the design. As you can see on the "Death Metal" search page there are a lot of unicorn x rainbow design, so definitely those 2 will stay with you. Remove unused keywords for the best optimization.
The best keywords to keep might be the ones you collected within SpyAMZ Keyword Analytics. Those are the most successful keywords, so you also might want to use it either. United We Stand, the more successful keywords, the better. At this moment, keywords like: "birthday, men, women, Christmas, gift, fun, holiday, etc" have biggest densities, try adding them in.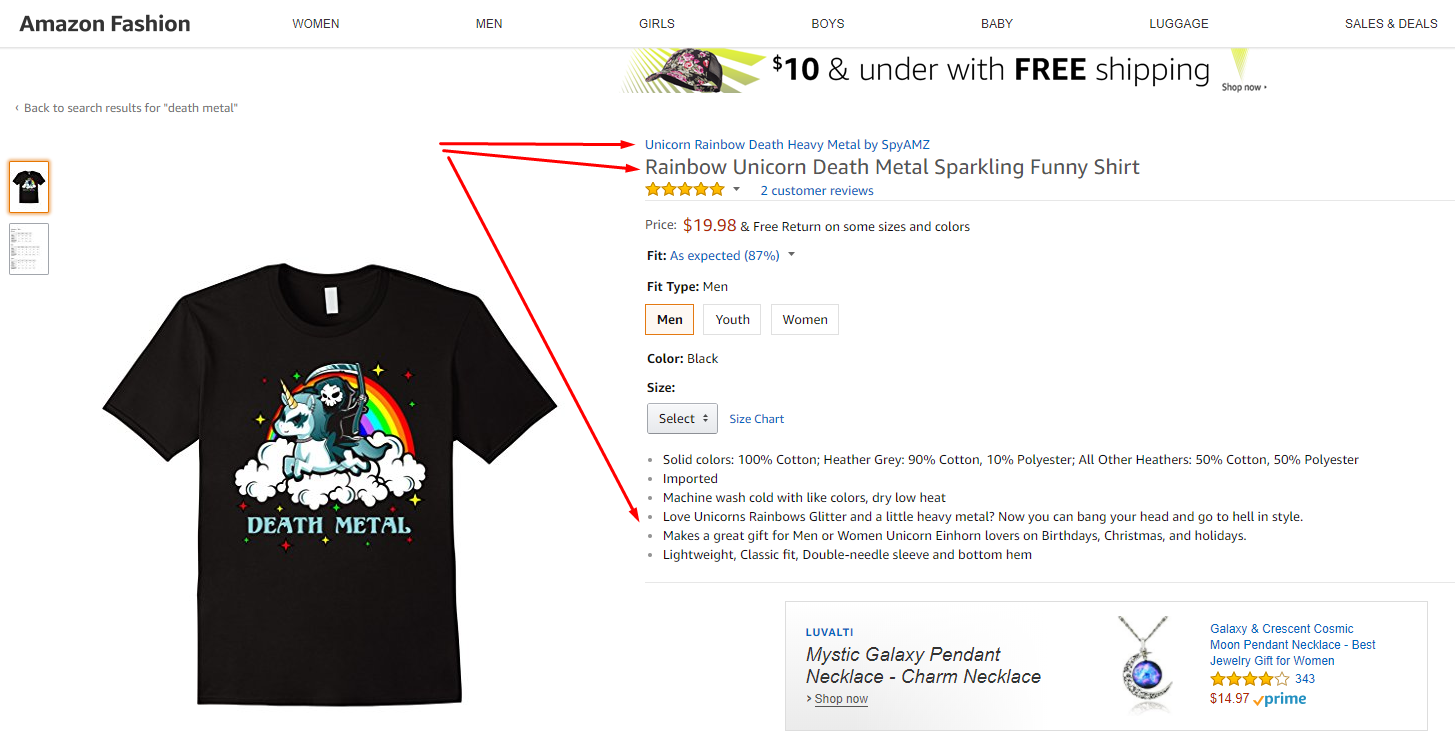 My product, I will try to add popular keywords in as many as possible. I even put them in my brand (don't forget to mention your Brand name there), product name and the 2 bullet points. I used Rainbow, Unicorn, Death Metal, Rock, Sparkling, Heavy, Love, Gift, Men, Women, Birthday, Christmas and Holiday.
To be honest, I love this shirt ❤❤❤ 
Final words on How to do Merch by Amazon keyword research
I'm not truly an expert for keyword researching but with all of my knowledge, I wish this could assist you guys one or two. My trust always stays with SpyAMZ with many many premium awesome features, I hope you would find yours with it. Good luck with your items and get countless sales with ASO – Amazon Search Optimization, I hope this guide would help you rise higher with Merch by Amazon. You can start your Merch by Amazon keyword research now, have fun Merching 😉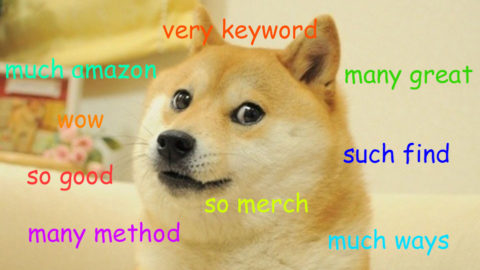 Author: Wanderlust Winter
Memelord and Creative Master of ThimPress x SpyAMZ. A Gamer, Collector indeed, love heavy music and studying Chinese