The Best Sellers Ranking, or BSR, of a product is a number that compares the sales of that product with the sales of other products in the same category, during a given amount of time.
This is the definition that I would most likely provide if I were asked to explain in a sentence what the Best Sellers Rank is. You will agree with me on saying that it is not a hard concept to get.
Basically there is a product that, based on its characteristics, fits into a category and based on its sales, it is compared to the other products of the same category. Then it gets a ranking score, that changes over time.
So why do so many people have problem in dealing with this Amazon parameter? The reason is that it is one of the aspects that Amazon sellers most frequently misunderstand either because they don't know much about it in the first place or because they know what it is but they don't know how to use it properly.
This article is being written with the goal of shedding light on such a controversial topic, in order to help you to get more people to your page and therefore to get more sales and eventually more money!
The first thing to remember is that the BSR is updated every few hours, so you continually have to play the "game" in order to always be on top of the list.
Amazon is a fast changing market that depends on many factors; one day you could be on top of the listing and the day after you find out that you have slid back of thousands of positions… this is what happens when the ranking is updated continuously. When you make a lot of sales, for example, you overshadow many other products but the same could be said about your competitors' products. In case you don't make enough sales you will need to find alternative ways to drive traffic to your listing and put you ahead of the competition again.
This leads us to the second point, which is: how to drive traffic to your page? There are two ways to do it, you can:
Rely on the organic traffic and try to implement an effective keywords strategy in order for your products to show naturally on top of every list of its niches. This may require a lot of patience and time and therefore it's very risky. Plus you'll most likely end up not having the amount of traffic that you had hoped for because you can only hope that people somehow will find your products and buy them. It's a little bit of a "out of people's reach" thing, isn't it?
Pay per click (PPC) on the other hand is quite effective but you have to pay in order to gain more traffic. By increasing your ranking temporarily, it gives you the chance to appear on the first pages displayed by Amazon. You will, therefore, be noticed and you will get more sales and more reviews. Once you have enough reviews to be considered reliable, you can stop the PPC campaign and rely on organic traffic from then on. So, even tough you have to pay for it and it adds costs to your selling, it also allows you to raise your BSR. And as I said before: you only want to run it until you have enough reviews.
Here is how it roughly works:

In this scenario, are reviews important for your sales ranking? They indirectly are. They don't affect your ranking position but they are certainly the thing that the average customer relies the most on and they play a big role when it comes to customer decisions. Positive reviews lead to more sales, which lead to better ranking positions.
Which product would you trust better?!?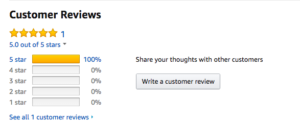 Be careful! You should know that the ranking is affected from the category that the product is in and it can change from a country to the other, meaning that a t – shirt that ranks a certain position in a country may not necessarily rank the same in other countries.
Also, a ranking that is considered great for a category may not be as good for another category because it is taken into consideration the total number of items in each category.
Have you noticed that most of the products have more than one ranking? this is done on purpose in order to reach as many niches as possible, even the smallest ones.
Take a look at this:

As you can see, the product has a different ranking based on the sub category that it is in. Every detail, when it comes to ranking, is important and to be able to interpret them is crucial for your business. All together they can have a huge impact on your success vs failure.
Since your product doesn't stand on Amazon by itself but it is linked to other products in the same category, sometimes an increase in sales, which may seem beneficial for your ranking, might not mean an increase in BSR.
Here is an example: Let's say that it's Halloween and your niche sells t – shirts with black cats on them. Let's say that the days before Halloween you see a dramatic increase in your sells. Keep in mind that your competitors are probably experiencing a boost in their sells as well! In this case unfortunately your ranking will not change much. An increase in sales alone many times is not enough to increase your sales rank. To increase your BSR your product must sell MORE THAN your competitors. This means that if your sales increase because of a seasonal trend, and therefore every t – shirt in your category faces an increase in sales, you might not see the ranking improvement that you hoped for.
It may also occur that your niche sells well only during certain times of the days. For example: "Good Morning t – shirts"…when are you most likely to think of those ones? Of course when you are having breakfast! You are in the kitchen, sipping your cup of coffee and suddenly you realise that you really need a freaking shirt with a coffee on it and a nice "morning quote" writing kind of thing. So you go ahead and buy it. There is no time during the day to think about it and you would not certainly think of it in the evening when you are out partying with friends or just regularly crushing in bed after a looong day, would you? The volume of sales of these products can be tricky because they can give you the impression that the niche is very popular on Amazon while maybe it is not the best niche to investi in.
My advice is to always try to monitor the niches and do some searches before jumping into them. There are many tools that can help you in doing this. Spy Amazon is one of the most promising MBA Design Database at the moment. It is updated every few hours and it is very simple to use. On the first page you will immediately be able to picture the best trends of the season and the designs that have the BSR. In addition, if you are looking for any specific niche, you can also do your search by using some keywords of your interest and so on. It is definitely worth a visit, and you can test in for free for 3 days!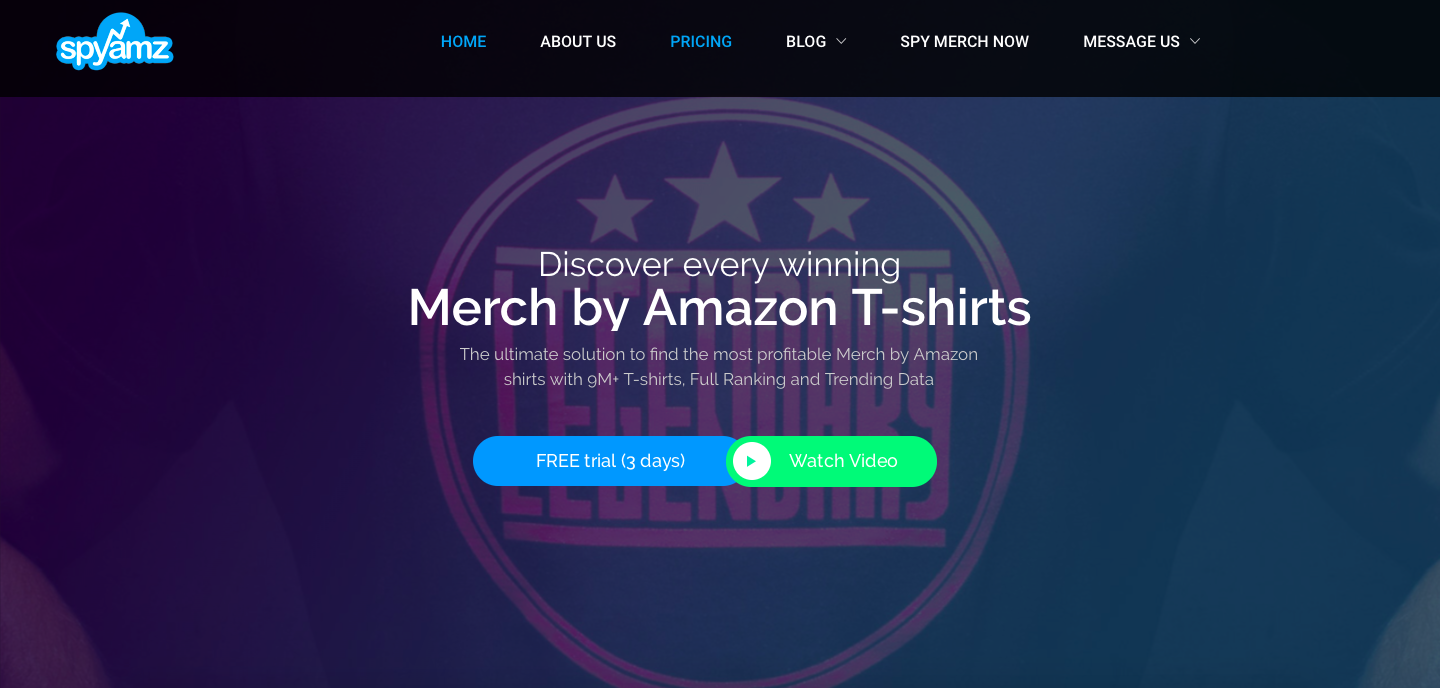 And of course, when you find a profitable niche, put your best effort into your business to make the best out of it!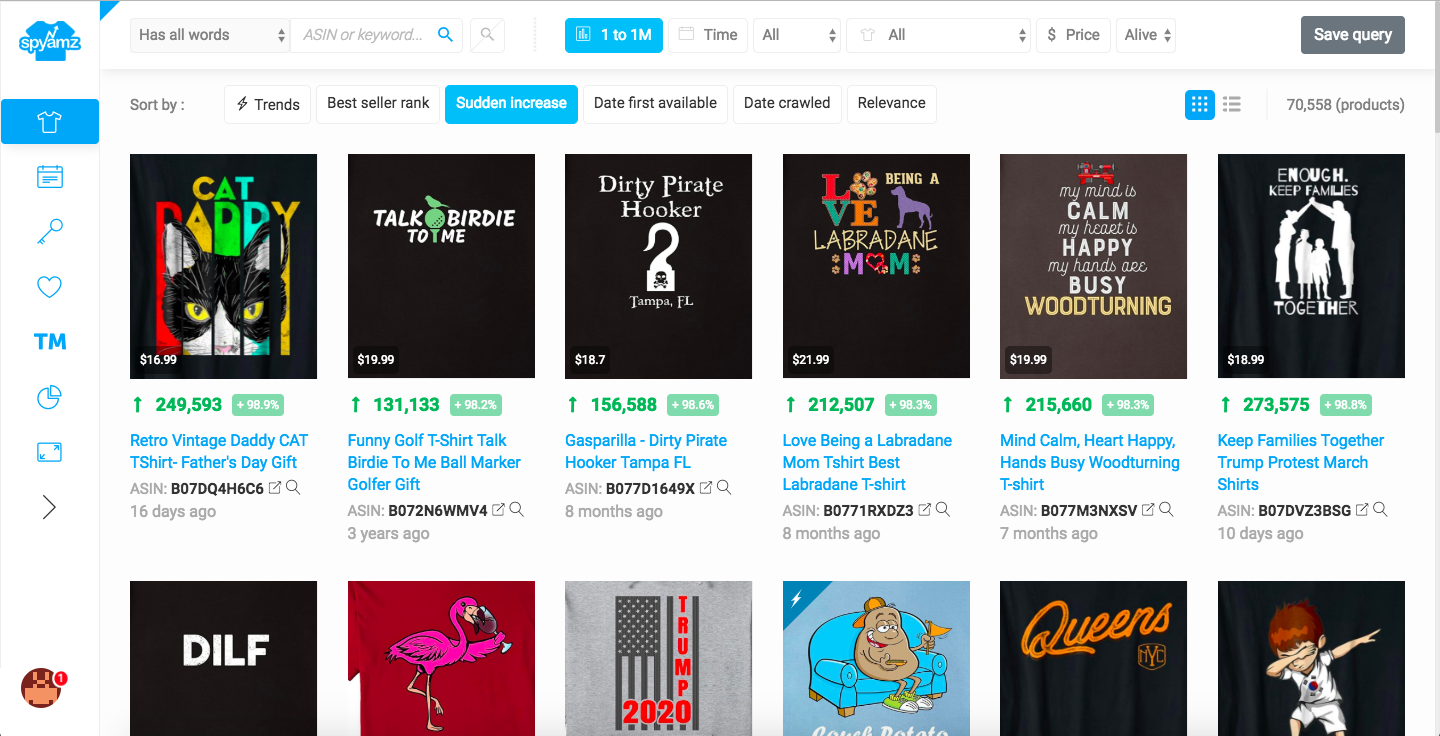 Keep in mind that timing is very important and the sells of today weight more than the sells of the day before or of a year ago. This is because Amazon knows that customers always want to be updated on what's new and cool out there. So by using this logarithm, Amazon allows new items that maybe don't have a long selling history, or don't have it at all and therefore don't display in the BSR, to rank well if they sell more today.
Also, it takes less sales to maintain BSR than to initially achieve it. Infact Amazon tends to favour the stability of sales instead of a dramatic surge over a short period of time. Needless to say that you should not try to buy your own products on Amazon in order to climb the sales ranking. Sudden increases quickly fade away and Amazon will still favour your competitors listings over yours.
To wrap it up:
The Amazon BSR can be defined as a "snapshot" because it is a picture of the situation at the moment that you check. It may be changed after a couple of hours because it depends on many different aspects, among which there are the number of recent sales, the number of units of items per purchase (it is not the same to have an order of one item versus to have an order of 10 items), the happening of particular festivities and the moment of the day.