Do you want just only a half of the picture, or the complete picture of the Merch market?
Hello everyone, towards us the merchants of Merch by Amazon, it's compulsory, important, extremely necessary to research the market and aware of every aspect of it. In every war, it's not that guns and ammo or fighting jet are the best weapons, but Information is. You have the intel, you win the war. So, how do we get the intel and how can we get it best? The answer is Merch by Amazon research tools. We all know that the biggest tool in the industry is Merch Informer, and our SpyAMZ had just entered the market unknowingly. Most of the reviews and feedbacks are the price is way too higher than Merch Informer. It's true, we have no reputation but charged for that high, our trusted score will be incredibly low. Therefore, today I will show you the differences between Merch Informer vs SpyAMZ. I will completely be honest in this post about the strengths and weaknesses of both, not gonna flatter our own tool. I just want to prove that SpyAMZ worths $99/month.
The same in the two
Both of the tools provide useful search, latest items, and data of Merch by Amazon items. Therefore, users can easily navigate and manage the data to find the most suitable keywords x designs for themselves. Not only that, the two tools also give users the ability to avoid trademarks with TM checking/alerts. The nicest thing is the data of Top Bestseller items. Learning from the successors is one of the best ways in Merch.
Did you run out of idea? SpyAMZ and Merch Informer can give you some advice and suggestion over keywords by Analytics and Finder. If you love something, they can also help you bookmark the items and observe its change by providing detailed data and useful charts. No place for handy record anymore, they both run everything and track down stuff even while you are sleep. Also, they both provide image resizer for your artwork and design, saving lots of time.
The Differences
The Designs
The first thing I want to make clear is the design of these two. After logging in, Merch Informer brings you to the dashboard which contains all their professional tutorial videos. While SpyAMZ brings you to the statistic page where displays all the numbers about Merch by Amazon market today.
In my opinion, Merch Informer set up their items in rows will reduce the numbers of T-shirts observed and the designs on the T-shirts are pretty small to see. While SpyAMZ removed the T-shirt frame and just capture the design only, put them in a grid layout and emphasized the rank changes.
Merch Hunter
This is the most important part of every Merch by Amazon Research tool. This listed all the bestselling items via Merch by Amazon.
Merch Informer divided into many tabs: Merchant Search, Merch Hunter, Trend Hunter.
SpyAMZ integrated them all in to 1 tab only: Products
Merch Informer
Good: Search for all the lowest Best Seller Ranked items. Easy to search and exclude keywords by adding (-) before the words. The search page stays the same, with Results Data, Last Searches, Actions, Keywords Count, and Bestseller items on Merch by Amazon.
You can also check for rank change graphs when click on the item's actions.
Bad: Poor rank filter, no time filter, no product types filter, no Official/Unofficial, Alive/Dead/All filters. No Sudden BSR increase filter. Doesn't display the dead T-shirts. The only way to find dead T-shirts is to search for that item exactly. And the dead T-shirts has nothing to distinguish from the alive ones. No Save Query feature for better search each day.
It doesn't show the items automatically, you will have to press Search to have items displayed. The ranks of Merch Informer is not emphasized, hard to recognize. No rank change indicator, no rank change percentages. The result was limited to top 1000.
My personal opinion about the Row Layout of items: it's hard to see the design, hard to observe the whole results, to much abundant information which can be hidden. There's no option to change into Grid Layout.
Merch Informer doesn't have single detailed page for their items, the link will lead to Amazon product page instead.
With this limitation of the search feature, Merch Informer only provides a half of the picture.
SpyAMZ
Good: Advanced filter: Time, Rank, Product Types, Official/Unofficial filter, Keyword Exclude, Status filter. You can display Alive, Dead or All (Alive + Dead) T-shirt in the Products tab. You can exclude items from Official brands (Marvel, Disney, Star Wars, Shane Dawson,…) to avoid confusion.
SpyAMZ contains many preset: Trends, Best Seller Rank, Sudden BSR Increase, Date first available, etc. You are free to filter and shrink the search pool. The result is unlimited.
For example, you can search for "Unicorn" T-shirts that don't have "Birthday", Ranked from 1 to 200,000, first available within a month, Unofficial, and Alive only. You can search for Has all word,  At least 1 word, Same order or Match phrase, up to you.
Greater than that, you can save this search query and you can check back tomorrow, if you save queries with time filter like 1 week, the date period will auto move to the day of exact 1 week, not a fixed date. Therefore, you can easily check SpyAMZ everyday with your super creative complex queries.
The ranks of SpyAMZ was colorized: Green for up, Red for down. It also has the rank changes percentage next to it. Also, the number of search results is unlimited. If you do not enter any search criteria, it will show you the whole 10M+ T-shirts database.
You can switch between Grid layout and Rows layout. Click on the image to show the detailed board with graphs for the items. Click on the name of the item will take you to the detail page of that items, including all information: Rank, price, types, brand, description, graph, similar design.
SpyAMZ has no limit in search, the results are always completely displayed for users, giving you the whole complete picture of Merch by Amazon.
Bad: No Trademark checking at the search page, no detailed results data, only results amounts, no reviews for items in the search pages.
Search Examples
I've made some search examples with both the tools and Merch Informer didn't provide the full results as SpyAMZ did. The searches from Merch Informer always give limited or partially missing search results, causing data loss and inaccurate decision. Therefore, the trusted score of Merch Informer is not as high as SpyAMZ, for sure.
Searched for "Unicorn" products:
Merch Informer: 100 results
SpyAMZ: 65,282 results
Searched for "Daddy" products:
Merch Informer: 100 results
SpyAMZ: 35,663 results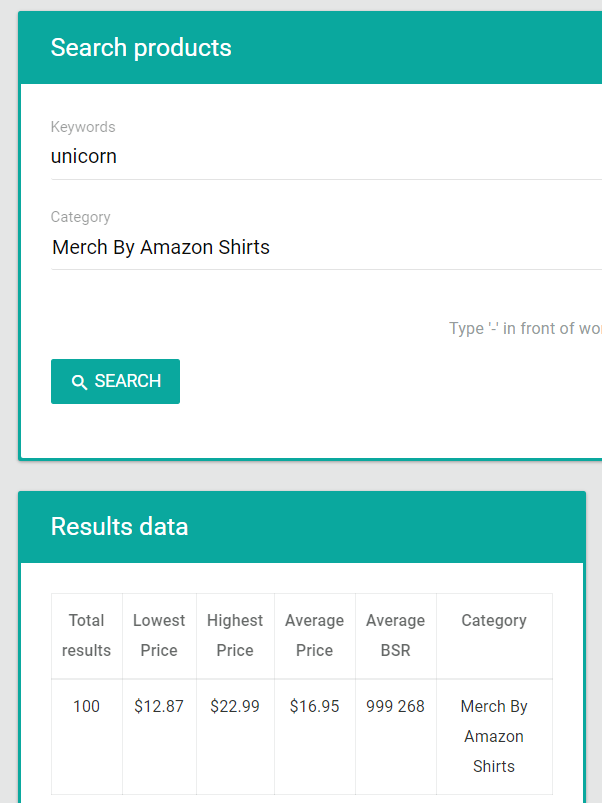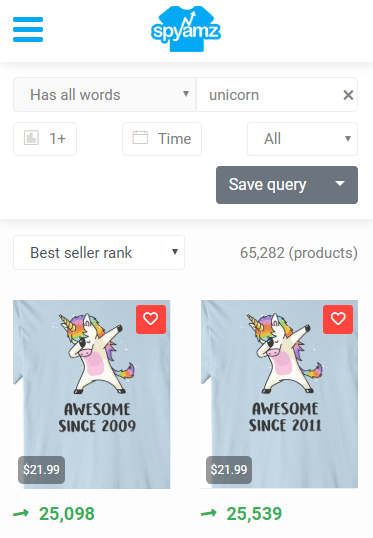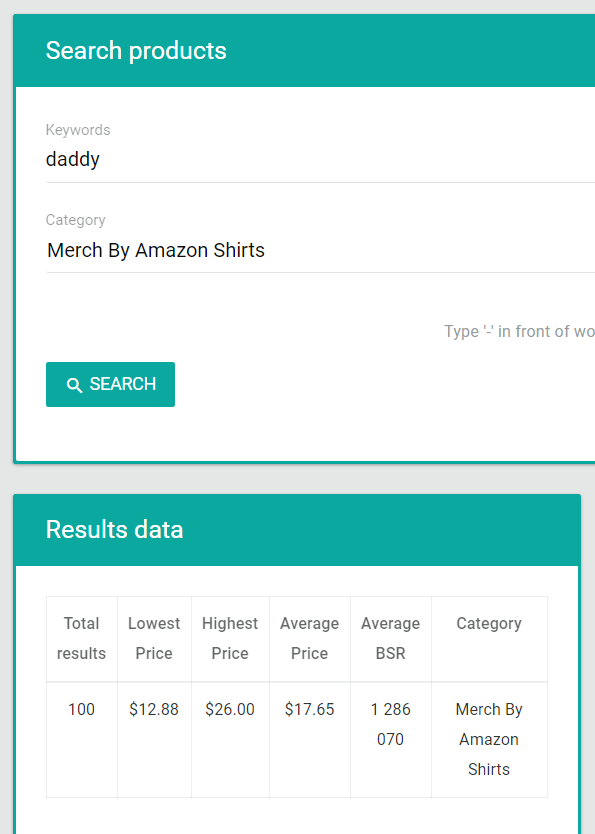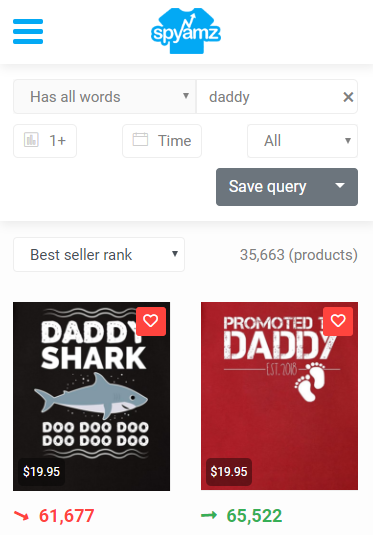 Searched for "Disney" merchant:
Merch Informer: 16 results
SpyAMZ: 3,541 results
Searched for "Marvel" products:
Merch Informer: 178 results
SpyAMZ: 4,414 results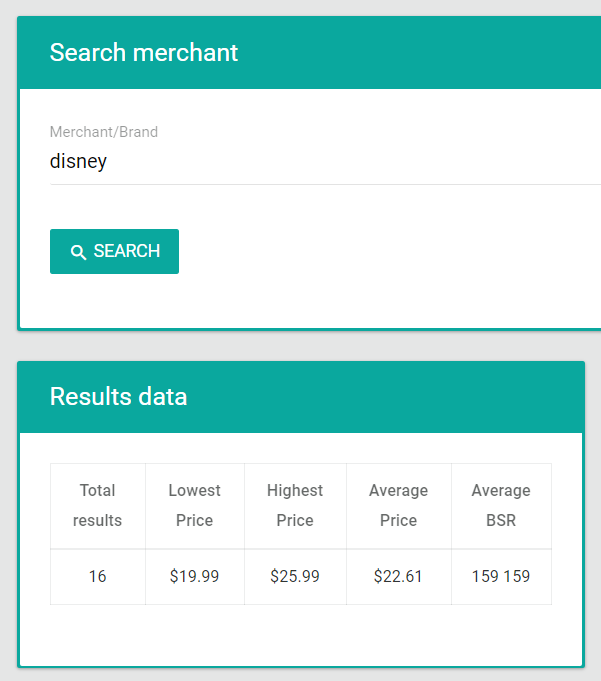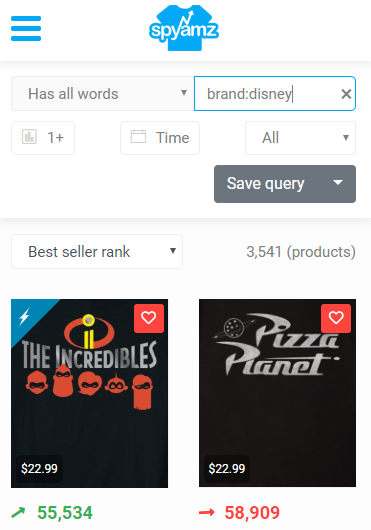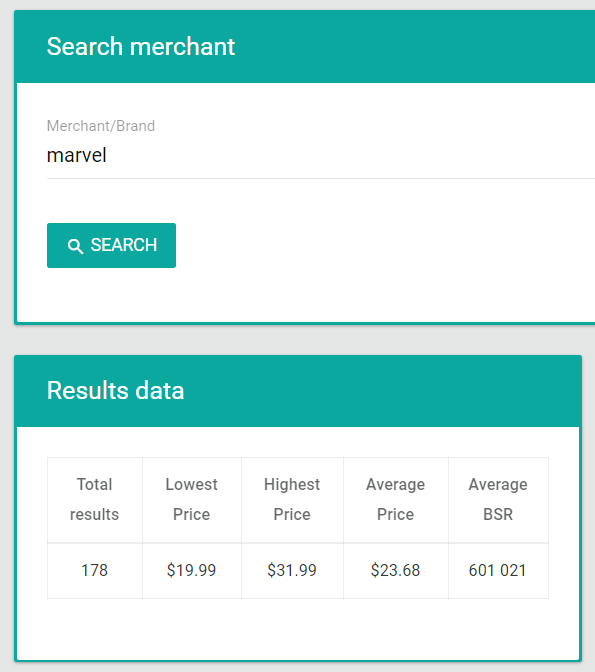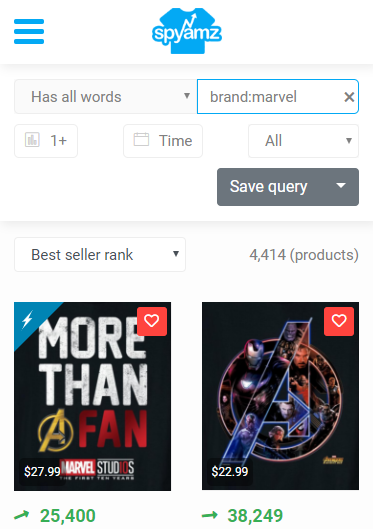 Merchant search
Merch Informer has a separate tab for Merchant Search, while SpyAMZ integrated this right in the big Products tab. The results amounts of SpyAMZ is WAY BIGGER than Merch Informer's. For example, I searched for Disney on Merch Informer, only 15 results. Meanwhile on SpyAMZ, there are 548 Disney Merch by Amazon T-shirts.
Same as the search below, I searched for Marvel brand in both the tools. To search for brands in SpyAMZ, type "brand: XXX" (XXX is the brand, you don't need to hit Enter, SpyAMZ will auto search when you're done typing).
Good: Merch Informer provides a full detail of results data, last search, and some other actions. They display the items in rows, with full details, price, rank, ASIN, description, and all the actions with the item (Mark for favorites, Trademark checking, details with graphs, Report infringement). They even display keywords counts in search results.
Bad: Merch Informers row layouts will reduce the observing efficiency of users, reduce their visions on overall items. Some data and information are not so necessary to display, taken too many places. The Results amounts are pretty low, only 16 items for Marvel.
Good: SpyAMZ provides the result amounts, friendly organized and easy-to-track layouts, and many filters for you to shrink the search pool. The rank was marked with green or red to show the changes. The result amounts were also displayed on the top right corner.
You can use many filters and query to shrink the search pool and find yourself the best designs. If you are looking for details of each product, simply click on the image, it will show you all of it, including ranking graphs. SpyAMZ provides 586 results in Marvel search, way larger than Merch Informer. The result also is not limited.
Bad: No action to check trademark right at the search page, no Report Infringement feature. No keywords count in the search page.
Product Search
Merch Informer
Good: Same as Merchant search, they provide results data, last searches, keyword counts and items in rows. Fully detailed with descriptions, ranks, price, reviews, etc. The search box has a drop-down to suggest keywords and phrases. You'll have actions like mark favorite, check TM, report infringement.
Bad: Result limited at 100 items, no filters for the search pool. The row layouts again limited our visions and observations. No ASIN search available.
SpyAMZ
Good: The grid layouts, the advanced filters. You can also search for ASIN, Phrase, keywords with many search mode: Has all words, At least 1 word, Same order, or Match phrase. If you don't like the Grid layout, you can change to the Row layout on the top right corner. There's no limit in the search results.
Bad: No dropdown for search suggestion, no reviews, no Trademark checking at the search page, no last searches.
Trend Hunter
Merch Informer
Good: It provides you Movers and Shakers, the tracker that find any item has its rank rises suddenly dramatically. Also, Merch Informer does have display mode: Daily, Weekly and Monthly. Each row has its own ranking graph, product reviews, basic information (ASIN, Price, BSR)
Bad: Limited 500 search results, hard to see the designs, no advanced filter for the trending items, no mark to indicate which one is trending.
SpyAMZ
Good: SpyAMZ integrated this right into the product tabs, named Sudden Increase and Trends preset.
The Sudden Increase items are the ones that have rank risen dramatically, like 90% – 99%.  This filter only considers rank rising percentage.
The Trending items are the ones that have the lowest BSR, and the rank has risen more than 20%. This is like the Sudden Increase items but also consider the lowest BSR. All the trending items ranked < 100,000 will have a lightning mark. You can easily recognize the latest trend on Amazon by searching for Trending items + time filter 1 week + rank < 100,000.
If you like graphs, switch to Row layout or click on the image, it will show up. SpyAMZ also provides unlimited results.
Bad: No Daily, Weekly, Monthly scale, no results data and other indicators.
Favorite
Merch Informer
Good: Categorized Favorites, where you can select a category to display your bookmarked items within that category, You can change, rename, or delete the category. Also, it's possible to move an item to another category.
Bad: No option for Category description, nowhere to store notes about those items saved under the category.
The Favorite marking process is quite complicated, you will have to go back to any search page, tick on the heart at the end of the item row. After you're done clicking, you will have to scroll up and press the big button Add to favorites and choose a category for it.
Merch Informer doesn't allow an item to be under multiple categories.
SpyAMZ
Good: Very easy to bookmark your favorites. Just go to the Products tab, hover to the image and click the red "Save" button. It will show you the list of the categories and you can tick on multiple. You can also create a new category right there
SpyAMZ Favorite categories have a field for description, you can also change the name and description any time.
Bad: No option to delete a category
Keywords
Merch Informer
Good: Including keywords on CafePress and Etsy, Google analytics indicators (Search volume, CPC, Competition). Has the feature to save keywords into favorite and let you track them later.
Bad: You will have to search for the keywords manually. There's no option to show the most popular keywords in Merch by Amazon. No ranking range filter, merely to check competitive rate of keywords.
SpyAMZ
Good: Automatically show the most popular keywords on Merch by Amazon, listed the counts, has the rank range filter. You're also able to search for keywords and found their counts.
SpyAMZ archives all the keywords status each day so you can easily change the date to the past to watch the older version of most popular keywords.
Bad: No advanced analytics indicators, no option to save keywords to track them later.
Trademark Checking
Merch Informer
Good: Indicator Safe (v) or Not Safe (x) with colorized. It checked for the whole phrase and have details button leading to the trademark checking site. All your searched phrases will be stored and you can delete it anytime. It also has the option for bulk checking trademarks (in case you want to update the status of the trademark license)
Bad: The process once again is pretty complicated. You will need to enter all of your search terms, separated by "Enter" then save them all. Then, you will hit the bulk Check Trademark button to check them all, including the old and new ones.
Merch Informer does not search for Trademarks in words separately, only the whole phrase, without trademark types.
Merch Informer uses Trademarkia to check trademarks
SpyAMZ
Good: Easy to search by just hit the search terms in and it will automatically display below. All your search will be stored and let you compare, or check them later.
SpyAMZ search for the whole phrase, partial phrase, and words separately, giving you the best result on Trademark checking. The terms are displayed in colors (Green and Red).
Click on the stored terms will bring you a window to lead you to Trademark checking site
It will have notifications if you have any unchecked Trademarked terms. SpyAMZ also have the feature to let you check the terms again, and let you know types of trademarks.
Bad: No option for bulk Trademark checking.
SpyAMZ uses the United States Patent and Trademark Office (USPTO) service to check trademarks
Additional Exclusive Features
Merch Informer:
Advanced Competition checker: Check the competitive rate of a keyword or phrase, including Results Data, rated score and related bestsellers.
Listing Optimizer: Check the efficiency of an item's listing, including title, brand, bullet points analytics based on keywords. Also a synonym suggestion for keywords. In listing optimization checker, it won't show up the design or name or any detail of the item, just a checker whether or not the keyword appeared in fields.
Merch Archive: Merch Informer stored all the order, status of all items and let people access those data in the later date.
Keyword Cloud: Same as Merch Archive, but stored Keywords instead of Items.
Merch Academy: where the successors with Merch by Amazon teach and advice newbies, share tips to learn and grow with MBA. To be exact, this feature contains 5 – 6 premade youtube videos guiding about MBA.
Merch Designer: A completed system for you to draw like Photoshop, stored in layers, provides a clip art library, free draw, and undo feature. You can design T-shirts, Hoodies, and PopSockets.
Merch Informer Lister: a newly added Chrome extension letting you upload and submit your designs to Merch by Amazon faster
Mobile app: Yes Merch Informer does have a mobile app.
Download CSV: Merch Informer let you download Favorite Categories, Keywords of Advanced Competition Checker.
SpyAMZ:
Events: letting you know all the upcoming events, including details, places, types, date and time, with other related designs for that events. You can search for more about the event by clicking "More Products"
Statistics: SpyAMZ is always proud to be the LARGEST T-shirt database on Earth (10 MILLION and rising each hour). With the search results always overwhelmed compared to Merch Informer, you can search and spy for any T-shirt with SpyAMZ. At this tab you can see the total numbers of T-shirts, some other indicators like "Has rank", "Updated today", "New today", "Deleted today" items.


At the end of this tab, you can see the overall line chart about ranks and prices, pie charts for products types, overall stats for products by ranks.

Random: if you are run out of ideas, spamming this Random button would have some use. This Random button located at the Statistics tab.
Finding Similar Design: Next to any ASIN in the Products tab, there's a magnifying glass icon, click on it and it will bring you all the relevant designs to the item you've chosen. The similar designs also appear within the single detailed page of any item on SpyAMZ.
Image resizer: this will crop, resize your artwork to fit with Merch by Amazon required image dimension (4500×5400 for t-shirts, 4500×4500 for hoodies) within a few seconds. You can also do bulk resizing for multiple items at a time.
Final words on Merch Informer vs SpyAMZ
Both the tools are great, each has its own strengths and weaknesses which can be improved.
However, the giant amount of data from SpyAMZ can give you the best picture, completely of Merch by Amazon with no limit, and the database is growing every hour. Meanwhile, Merch Informer limited the search results and didn't have such that large database. When you searched with Merch Informer, many items were missing, this might bring you data loss, misleading and poor decision making.
People still wonder why SpyAMZ was that expensive. The answer is SpyAMZ can give you the unlimited possibilities, unlimited search sessions, unlimited results which are not be LIMITED (100, 500, 1000 like Merch Informer). Do you like a row layout with full T-shirt frame that you hardly see the designs and the ranks have no emphasized, or a grid layout with full design look and colorized ranks?
Moreover, Merch Informer just simply show the results, you can do nothing with the search results. While SpyAMZ can CUSTOMIZE the results, shrink it, filter it, put in criteria to help you find the expected results (Advanced search filters)
The point is, SpyAMZ was made to help the users to get ALL they want with just a glance, friendly, easy to watch and track. It's all about bringing the happiness for users while browsing the tool, so the UI/UX of SpyAMZ is optimized at their finest. On the other hands, Merch Informer's purpose is bringing as much information as possible to users, even some of them are not necessary enough to appear directly on the search page.
It's true that Merch Informer did have many great features such as Advanced Competition Check, Listing optimizer, an Advanced Designer system to draw, Archive and Cloud.
While SpyAMZ also has Events, Statistic, Image resizer, Finding Similar Designs.
We all hope you will find your best niche and catch the latest trends while following the Merch game. The last call is up to you, pals. Wish all the best for you 👍👍👍